Pop 'bloons' to build a monkey metropolis in Ninja Kiwi's Bloons Monkey City (via @appadvice)
Pop 'bloons' to build a monkey metropolis in Ninja Kiwi's Bloons Monkey City (via @appadvice)
Results:
Price: 0.0
Version: 1.11.3
Release Date: 2014-12-04T05:16:39Z
Content Advisory Rating: 9+
Screenshots
Description:
Create, upgrade, and customize your very own Bloons Monkey City in this groundbreaking blend of city building and tower defense awesomeness! UNIQUE SIMULATION + STRATEGY GAMING Take back the wilderness from the invading bloon hordes and pop your way from a modest settlement to a thriving metropolis. Attack bloon-infested territory adjacent to your city, win a short tower defense game, and add the captured territory to your city as a space on which to build. Buildings are the heart of your city, and each one has a specific purpose - individual monkey towers for battle, upgrades for those towers, farms and banks to drive your economy, power to supercharge your city, epic buildings for epic powers, and decorations to make your city more awesome. Every time you build, your city looks cooler, you increase your power potential in tower defense play, and you open up even more rewards and challenges. AMAZING DEPTH AND VARIETY All 21 of the fully awesomized and carefully balanced Bloons TD 5 towers are available within Monkey City, with completely new unlock mechanics. More than 130 buildings and decorations give you endless strategies and city design options. Explore the wilderness to find treasure tiles and uncover 11 powerful special items like the Banana Replicator and the Dark Temple Idol. Burst bloons on 55 all new tower defense maps or test your mastery on 13 wildly challenging original special missions. Either way, be ready to encounter all new bloon waves and special bloon attack patterns like Cash Starve or Fast and Furious. REINFORCE YOUR FRIENDS Connect with Facebook and Game Center friends, then help each other win and expand. Send Supply Crates back and forth for bonus starting cash. Visit friends' cities to check out their strategies and their city design skills, and while you're there root out any bloon spies to win a reward for both you and your friend. SHOW OFF YOUR SKILLS Build up the strongest lineup of monkey towers possible and compete with other players for the best score in weekly Contested Territory events. Use the latest in monkey science to send player vs. player bloon attacks, then see whose defenses are the strongest and earn extra rewards for victory. Download for free and play Bloons Monkey City now! Pro tip: You can move your buildings when they are not upgrading or damaged - just tap and hold then move to a free captured tile! Please Note: Bloons Monkey City is free to download and play (aside from internet, carrier, data, device, and other services for which the player is financially responsible), but some in-game items can be purchased with real money. You can turn off the payment feature by disabling in-app purchases in your device's settings, or reach us at support@ninjakiwi.com for help. City data is organized individually, so if you share multiple cities on one device through multiple Game Center or Facebook logins, do note that your IAP will only apply to the city active during purchase.
Release Notes:
* Minor bug fixes
Price: 0.99
Version: 1.2.4
Release Date: 2009-04-14T02:30:50Z
Content Advisory Rating: 4+
Screenshots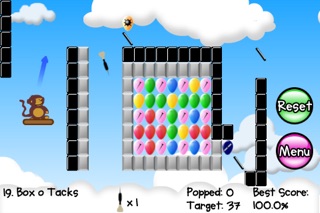 Description:
NOW 150 EXCLUSIVE LEVELS! ****************************************** Follow Bloons on Twitter to receive the latest information at http://twitter.com/bloonsiphone Walkthrough for the first level pack: http://ninjakiwi.com/blog/bloons-iphone-walkthrough-part-1-of-5 Walkthrough for the second level pack: http://ninjakiwi.com/blog/bloons-iphone-expansion-walkthrough-part-1-of-5 Recommendations: Pocketgamer 8/10 - Silver Award "Bloons on iPhone is the definitive article" TheAppEra - "Still flashy without flash" ------------------------------------------ Bloons, the online flash sensation has finally landed on iPhone and iPod touch! Play as the mischievous monkey as you set out to pop as many balloons as possible using an arsenal of darts and special power ups. Bloons is a simple yet hugely addictive game in which players must pop a target number of balloons in each level in order to progress to the next. Requiring skill, determination and a little bit of monkey magic, Bloons is a puzzling skill game which will have you begging for just one more go! Fans of the online game and those yet to experience the Bloons phenomenon are sure to enjoy this iPhone conversion. Featuring: * All of the original Bloons favorites such as ice bloons, bomb bloons, tack bloons and helium bloons. * 150 brand new levels exclusive to iPhone and iPod touch. You simply cannot experience these new levels anywhere else! * Level Editor - allowing you to customise and store your own levels. * Unlimited Darts mode. * Simple pick up and play control system allowing players of all ages and skill levels to enjoy the game. * Bonus hidden content which can be unlocked.
Release Notes:
Minor bug fixes Check out Bloons 2, available on the App Store now!
Price: 2.99
Version: 3.23
Release Date: 2012-11-15T08:00:00Z
Content Advisory Rating: 9+
Screenshots
Description:
Five-star tower defense with unrivaled depth and replayability. Now with rewarded leaderboards for even more fun and challenge! The Bloons are back and this time they mean business! Build awesome towers, choose your favorite upgrades, hire cool new Special Agents, and pop every last invading Bloon in the best ever version of the most popular tower defense series in history. Featuring 2 brand new Towers, cool Special Agents, glorious retina graphics, original Tracks and Special Missions, a whole new tier of Specialty Building upgrades, and the powerful Monkey Lab to further upgrade your towers, Bloons TD 5 delivers hours and hours of fun, challenging play to fans and new players alike. Hours and Hours of Awesome Gameplay: * 21 powerful towers with Activated Abilities and 2 upgrade paths * 10 Special Agents * 50+ Tracks * 10 Special Missions * 250+ Random Missions * New Bloon enemies - tougher Camos, Regrower Bloons, and the fearsome ZOMG * 50+ Game Center Achievements and Challenges * iCloud Support * 3 different game modes * Freeplay mode after mastering a track * 4 difficulty settings and family-friendly theme so anyone can play And that's just the beginning - regular planned updates will keep Bloons TD 5 fresh, fun, and challenging for many months to come. Now it's time to pop some Bloons! Remember to save to iCloud after each victory or purchase to save your progress. iPad and iPad mini version also available - check out Bloons TD 5 HD for full screen UI awesomeness!
Release Notes:
Feel a chill in the air? Winter has arrived in Bloons TD 5! Dive into a winter wonderland in a new beginner map: Snowman. This snowy spectacle has more loops and bends than a festive bow so you'll have plenty of places to put your favorite towers. Happy Holidays from everyone at Ninja Kiwi!
Price: 0.0
Version: 6.5.2
Release Date: 2013-07-18T06:41:25Z
Content Advisory Rating: 9+
Screenshots
Description:
Play the top-rated tower defense franchise in this free head-to-head strategy game. It's monkey vs monkey for the first time ever - go head to head with other players in a Bloon-popping battle for victory. From the creators of best-selling Bloons TD 5, this all new Battles game is specially designed for multiplayer combat, featuring over 20 custom head-to-head tracks, incredible towers and upgrades, all-new attack and defense boosts, and the ability to control bloons directly and send them charging past your opponent's defenses. Check out these awesome features: * Head-to-head two player Bloons TD * Over 20 custom Battles tracks * 22 awesome monkey towers, each with 8 powerful upgrades, including the never before seen C.O.B.R.A. Tower. * Assault Mode - manage strong defenses and send bloons directly against your opponent * Defensive Mode - build up your income and outlast your challenger with your superior defenses * Battle Arena Mode - Put your medallions on the line in a high stakes Assault game. Winner takes all. * All new Monkey Tower Boost - supercharge your monkey towers to attack faster for a limited time * All new Bloons Boost - power up your bloons to charge your opponent in Assault mode * Battle it out for top scores on the weekly leaderboards and win awesome prizes. * Create and join private matches to challenge any of your Facebook or Game Center friends * 16 cool achievements to claim * Customize your bloons with decals so your victory has a signature stamp "...outstanding gameplay" -- Modojo, 4/5 stars "...excellent for players seeking a real challenge" -- Gamezebo, 4/5 stars "...simplfied-yet-fun multiplayer" -- 148Apps, 4/5 stars Universal app, available for iPhone 4 and up, iPod touch 4 and up, and all versions of iPad. REQUIRES INTERNET CONNECTION YouTubers and Streamers: Ninja Kiwi is actively developing, supporting, and promoting channel creators on YouTube, Twitch, Kamcord, and Mobcrush. If you are not already working with us, keep making videos and then tell us about your channel at youtube@ninjakiwi.com.
Release Notes:
Minor bug fix