Take the beach with you anywhere and relax with "Sunny" : "my new favorite" (via @appadvice)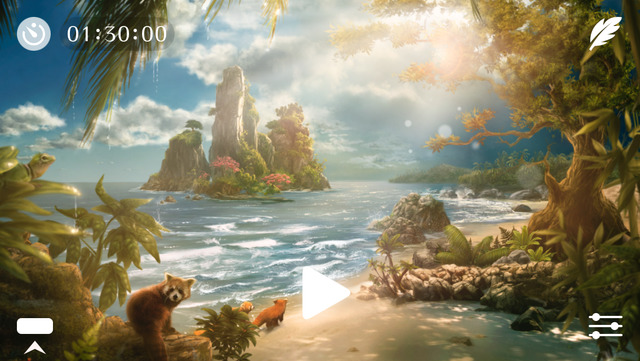 Take the beach with you anywhere and relax with "Sunny" : "my new favorite" (via @appadvice)
Results:
Price: 0.99
Version: 3.2
Release Date: 2015-01-14T08:00:00Z
Content Advisory Rating: 9+
Screenshots
Description:
Join over 5 million extraordinary people who enjoy some of the highest quality wellness audio apps in the world. You deserve nothing less. Sunny helps you sleep better with highest quality beach ambiances. Mix in additional nature sounds and feel great. Integrates with my other apps Windy, Away and Flowing! Six bays included. Over 470,000+ people have enjoyed Sunny so far. Join us and feel Sunny! *** Ocean-themed sequel to Best of 2014 app Windy. Featured by Apple, TUAW, and many more. *** ≈ Fantastic Audio Quality ≈ I've recorded all beach and nature sounds with a high-end psychoacoustic microphone that captures sound the way you hear. The same principles that work for 3D movies and 3D glasses also work for 3D sound with stereo headphones. All audio is encoded in 256 kbps AAC for a fantastic listening experience and perfectly looped. ≈ Sunrays ≈ Relax every day for 3 minutes or more to unlock more beaches. Or, if you prefer to cheat, unlock them all at once. Collecting sunrays is fun! ≈ Customize ≈ Sunny's fantastic nature sound mixer lets you mix in high-quality music and nature sounds. It remembers your preferences for every beach. ≈ Stats ≈ Track and view your relaxation performance on a beautiful relax session graph. With your permission, Sunny can read your daily average heart rates from Health app and overlay them on a relax session graph, so you can see how your daily average heart rate may correlate with your relax sessions. Please note that Health app integration is only available on iPhone. Sunny does not transmit your data anywhere. ≈ Features ≈ + Six high-quality beach scenes in 3D for headphones. + Relax regularly to unlock new beaches. + Mix in music, rain, rain on tent and birds. + Track your relax sessions in a beautiful graph. + Integrates with Health app to overlay your average heart rate over a relax session chart, so you can see the correlation between your relaxation sessions and your average heart rate (iPhone only / Sunny does not measure your heart rate). ≈ Questions? ≈ Tweet @taptanium, email franz taptanium com or send an email through the in-app contact support page.
Release Notes:
+ Important improvements. + Removed all In-App Purchases. + All scenes are now fully unlocked right from the start.
Price: 2.99
Version: 5.4.1
Release Date: 2013-07-05T10:39:50Z
Content Advisory Rating: 9+
Screenshots
Description:
During the day, Thunderspace won't let you focus on all the noise around you. And at night it will make you very sleepy. Do not use while operating a machine, vehicle or star destroyer. ****** We can't calm the storm. But the storm can calm us. Join us, over 1,000,000 relaxed Ladies and Gentlemen who immerse ourselves in realistic thunderstorms any time we wish to relax, focus, sleep or meditate. Join the Thunderspace revolution and experience the great benefits Thunderspace will bring to your busy life. Thunderspace's spectacular 3D audio sound field reproduction technology delivers a realistic, high-quality open space sonic ambience over regular stereo headphones. How so? Think 3D glasses for 3D film. Left eye, right eye. Your brain combines these two images into a 3D image. The same principle works for sound: Left ear, right ear. Thunderspace audio is biomimetic: It reproduces the ambient sound field exactly the way you hear. As if you were there. With interaural time and level differences. The storm rumbles high above you, and the rain falls around you. Once you experience the transportive sonic ambience, you will never again want to go back to simple stereo. Precisely synchronized lightning flashes, frequent updates with new premium quality thunderstorms, a carefully crafted user interface, and highest quality recordings from Emmy-award winning nature sound recordist Gordon Hempton separate Thunderspace from all other relaxation apps. Thunderspace teleports your mind to a place far away from stress. Far away from the noise. So you can focus on your work, sleep better and relax. Film* and audio demo on http://thunderspace.me *Built a set in Hollywood to make it rain in an apartment. ≈ Revolutionary ≈ "I could hear it coming from hundreds of feet away." — Carmel Deamicis, PandoDaily "Thunderspace takes relaxing to a whole new level." — Gannon Burgett, The Industry "It really is impressive." — Dave Caolo, TUAW "A lot of care and attention has gone into building this." — Paul Sawers, The Next Web "It is absolutely like having your personal slice of heaven." — Christine Chan, AppAdvice "Idiotically gimmicky or incredibly effective? If it's possible to be both at once, Thunderspace has done it." — John Pavlus, Fast Company ≈ Features ≈ + Psychoacoustic 3D audio for regular stereo headphones. + Two fantastic thunderstorms included. + Additional storms available via In-App Purchase. + Frequent updates with new thunderstorms. + All storms available in a​ bundle. + Utilizes the flash to simulate lightning. Flashes the screen on iPad. + Energy efficient. + Global storm sync to an atomic clock. What you see and hear is what everyone else sees and hears.* + Relax with many people in one room. In sync.* + Beautiful audiovisual experience. + Universal app: Runs on iPhone, iPod touch, ​and iPad. + Restore your purchases to all your devices. + iOS 9 Ready. *optional. Enable in iOS Settings > Thunderspace. ≈ Questions? ≈ Tweet @thunderspaceApp, email franz taptanium com or send an email through the in-app contact support page. I'd love to hear from you.
Release Notes:
+ Bugfixes + Optimizations New: Get Rainy for FREE today, sleep better tonight!
Price: 0.99
Version: 4.3.1
Release Date: 2014-04-10T19:17:05Z
Content Advisory Rating: 4+
Screenshots
Description:
Makes you feel SO tired. Wasn't easy to create this. You will sleep, relax, meditate and focus better with Windy because Windy masks unwanted noise. Your ears will love Windy because she plays soothing high-quality winds recorded in psychoacoustic 3D for stereo headphones and you can mix in additional nature sounds. Your eyes will love Windy because every ambience comes as a motion-controlled 3D parallax illustration. Integrates with my other apps Sunny, Away, and Flowing! Seven windy sceneries included. Let Windy transport your mind to a place far away – In one of the highest quality relaxation apps ever made. By the creator of Thunderspace, Sunny & Away. ≈ Chosen by Apple as "Best of 2014" ≈ ≈ Join +1,700,000 mindful people who sleep better & relax with Windy ≈ "Having used Thunderspace previously, I expected a good audio experience and I got one. Wind moves from left to right, right to left, hovers overhead. Sometimes a gust seems far away to the right, other times it's whipping just overhead. It's cool that you can often hear what the wind is carrying, too." — Dave Caolo, TUAW "Windy is what a pop-up book would look like in the digital age if you were to combine it with IMAX audio." — Gannon Burgett, The Industry "There's little question Windy has been carefully crafted – she's a beautiful thing, with some real talented artists and technologists working behind the scenes here." — Paul Sawers, The Next Web "I absolutely love the wind sounds." — Christine Chan, AppAdvice Featured and tweeted by Apple around the world. Emmy-award winning nature sound recordist Gordon Hempton and I recorded natural winds the way you hear: With psychoacoustic 3D sound field microphones. Over stereo headphones, you'll find yourself immersed in a noise masking environment, with wind and leaves swirling all around you. Join an exclusive group of over +1,700,000 relaxed ladies and gentlemen who teleport their minds to a place far away with Windy, a relaxation app like no other. ≈ Features ≈ + Seven natural wind recordings in partnership with Emmy-award winning nature sound recordist Gordon Hempton. + Stereoscopic 3D audio optimized for Apple EarPods & headphones. + Seven motion controlled 3D parallax paintings matching the wind recordings. + Mixer: Add music, rain, river, bird and cricket sounds. + Art by environmental star-illustrator Marie Beschorner. + Music composed for Windy in Hollywood by award-winning composer David Bawiec. + Universal app optimized for iPhone, iPod touch, and iPad. + Optimized for iPhone 6, 6 Plus and iPad Air 2. + Beautifully crafted audiovisual experience. Designed & developed by Taptanium. Please note: The screenshots show Windy with unlocked achievements. Some animals shown will need to be unlocked by small actions. ≈ Questions? ≈ Email franz taptanium com or send an email through the in-app contact support page. Excited to hear from you!
Release Notes:
+ User Interface enhancements. + 3D parallax scene enhancements. + Bugfixes. Enjoying Windy? Want to help sustain it? Update your review, so others see how great it is. Every review counts and gets seen by hundreds of thousands of people. That's right. You can reach a large audience simply by reviewing my apps. I read them too, and sometimes I even respond to them. How cool is that? Give it a try =) P.s.: Check out my new app Rainy. It's kind of wet in there. I mean, in a good way. And free. Yeah, there is a catch, but it's a good one. You'll enjoy it, even if you stick with the free part. No kidding. It's that good. Two fantastically valuable rain scenes for free. Download Rainy for free today. Sleep better tonight.