'Guardian Sword' Review – A Silly and Strategic Match Three RPG (via @toucharcade)
'Guardian Sword' Review – A Silly and Strategic Match Three RPG (via @toucharcade)
Results:
Price: 1.99
Version: 1.41
Release Date: 2014-03-07T08:00:00Z
Content Advisory Rating: 9+
Screenshots
Description:
Block Legend is a retro puzzle JRPG. Travel through different regions as a wide cast of characters, fighting monsters, visiting towns, and completing quests. KEY FEATURES-- • Fun puzzle tile-breaking gameplay. • Huge selection of heroes to choose from. • Tons of monsters to fight. • Take down powerful bosses. • Visit multiple regions. • Over 100 quests to complete. • Unique adventures every play through. • NO IAP!!!! OFFICIAL TRAILER -- bit.ly/BlockLegendTrailer CONTACT HANAJI GAMES-- • Twitter: @HanajiGames • Facebook: facebook.com/blocklegend • Web: hanaji.com • General: contact@hanaji.com THANK YOU-- From us here at Hanaji Games. Thanks for checking us out and we hope you enjoy the game! ありがとうございました!
Release Notes:
- Fix crash when buying equipment in stores.
Price: 0.0
Version: 2.5
Release Date: 2015-07-19T05:01:19Z
Content Advisory Rating: 9+
Screenshots
Description:
"Guardian Sword from Picsoft doesn't look like much at a glance, but under the surface lies a deep and strategic experience worth checking out." - Touch Arcade "While the approach to strategy with matching gems is enough to keep me coming back (the boss fights are intense!), there's also RPG elements to top everything off. - App Store Arcade "I've always made the assertion that there's room for one more match 3 hybrid on my device as long as the game keeps me entertained. Guardian Sword has done so much more than that so far – it has become an addiction." - TouchMyApps "The vast amount of depth in their combat system really must be experienced to be believed, and — although I sometimes nearly began to believe otherwise — I really could defeat anything with the right abilities, tiles, and strategic play." - iFanzine From the creators of Tiny Defense comes Guardian Sword - a strategy puzzle RPG with unique gameplay and classic RPG charm. Set off on an epic journey with Guts - a fearless swordsman who seeks an ultimate legendary weapon that gives the owner infinite power. But his road is not a bed of roses when it is the Guardian Sword that everyone can kill for… The cause of "The Last War" has started!! Guardian Sword is a strategy puzzle RPG, full of classic RPG charm that you rarely see in the genre these days. Guardian Sword Highlight is the unique gameplay that allows the players to customize the puzzles by themselves. You can choose from 40 Tiles with different abilities which means you can devise your own strategy in various ways and limitless. If you are looking for a game that is all new and if you would like a simple yet very strategizing gameplay, you are looking for "Guardian Sword". GAME FEATURES • Choose a set of Puzzles from 40 Tiles with unique abilities • Enhance with more than 20 Special Skills and Ultimate Attacks • Fight alongside your Teammates together with their specific skills • Meet over 120 different enemies and defeat strong Bosses! • Level up your character and upgrade as you wish • Stores to buy Weapons, Armors and Items • Large world map for you to travel over 90 maps • Impressive story, from an ordinary man to a hero… How the story goes? Only the ones who play to the end of the legend know!! OTHER FEATURES • Game Center Leaderboard and Achievements • Universal app: play on your iPhone, iPad or iPod touch • iCloud support for you to share your progress across devices • Official walkthrough and strategy guide • Recommended Hardware - iPhone 4S, iPod touch 5th gen, iPad 2/mini or better Get in Touch ---------------- • Follow us! : twitter.com/picsoft • Join our fan page : facebook.com/picsoft • Our Website : www.picsoftstudios.com/guardiansword • Support : support@picsoftstudios.com • Youtube : https://youtu.be/IlmO6r_zYo0
Release Notes:
• Fixed touchscreen unresponsive on iPhone X
Price: 2.99
Version: 1.0.2030
Release Date: 2012-07-25T22:59:19Z
Content Advisory Rating: 4+
Screenshots
Description:
10000000 is a Dungeon Crawling Puzzle RPG Matching Game. Run the dungeon, match tiles and run for as long as you can "This game is so good it makes me want to cry" - TouchArcade - Monsters blocking your way? Match swords and staves to take down pixel art Orcs, Dragons and Elementals - Can't see a match? Dig into your backpack for items. How about casting a magic spell that changes all the tiles on the puzzle board, or eating some food to give yourself an energy boost. - Battle getting too tough? Use the loot you found to go back to the Blacksmith and Armorer to upgrade your gear to epic status "Freedom costs 10 million. I'm half-hoping I never make it" – Kotaku - It's an RPG too! - Each dungeon and monster fight gives you experience to spend on new skills at at the trainer - Upgrade your castle - Matching stone and wood lets you bring it back home to upgrade your castle "It's damned good." – Pocket Tactics - Brew potions to make yourself stronger, or if you are feeling brave, drink potions that make the monsters and chests harder but increase your score. - Roguelike difficulty - It's hard to reach 10000000 but keep replaying the dungeon and you'll get stronger and stronger every run - And while you do it, zone out with some retro music and pixel art
Release Notes:
v. 1.9.0 - Localisation. Hello World! - Improved Resolution handling - Performance enhancements & bug fixing - View your achievements in game
Price: 2.99
Version: 1.07
Release Date: 2015-01-08T00:49:52Z
Content Advisory Rating: 12+
Screenshots
Description:
Match Tiles, Beat' em Up, Adventure – Brand New Experience of Classical JRPG "Hero Emblems is proof that there's still room in the market for a great match-3 adventure" - TouchArcade.com (4.5/5 Stars) "Hero Emblems is a challenging new match-three RPG that you won't be able to put down" - AppAdvice.com (4.5/5 Starts) "The game is cute, but that doesn't mean it's easy." - PocketTactics.com (4/5 Stars) "Hero Emblems is an old school game packaged for the new school, and it's awesome" - GamesInAsia.com (8.5/10) Hero Emblems is a JRPG that mixes "Side-Scrolling beat' em up" and "Match-3" features. Set in the middle-ages fantasy world of sword-fighting and wizardry, it is an adventure of 4 brave warriors who wield different emblem powers and their attempts to stop the re-awakening of the God of Evil. ==Game Features== ►Classical JRPG style adventures Complete presentation the traditional JRPG world which let you enjoy the fun of the console JRPG experience. ► Unique turn-based battle to offer the beat' em up experience Launch combo attacks, defense, healing and skills by matching rule. ►Big adventure world map Bravely traverse into dungeons, wilderness, caves, and cross the ocean to visit the new continents in the fantasy world. In the journey, you will meet different personalities NPC, and visit a variety of village to purchase the new equipments and skills. ►A variety of monsters with different kinds of weakness attributes and attack debuffs Different Monsters have its own strong/weakness. Some of them would attack with debuffs, such as poisoning, sealing, freezing, petrifying. You have to determine the strategy to attack the weakness of monsters with specific skills and remove the debuffs by matching rules. ►Story-driven quests. Seamless transitions between the battle scene and cutscene let you deeply immerse in the story. CAUTION! NO WARNING ALERT WHEN BOSS ARISES! ►Choose the cross roads of stages!? Choose the fate!? What will the ending be like? ►No IAP! No Ads! ==Background Story== Three thousand years ago, the ancient God of Evil captured the Shayara Kingdom. In those desperate times, four heroes rose to defeat the God of Evil with all their might. The heroic tales of these 4 heroes have been passed down for generations. Now, the ancient God of Evil is re-awakening...New generation of heroes, are you ready?
Release Notes:
Optimized for iPhone X.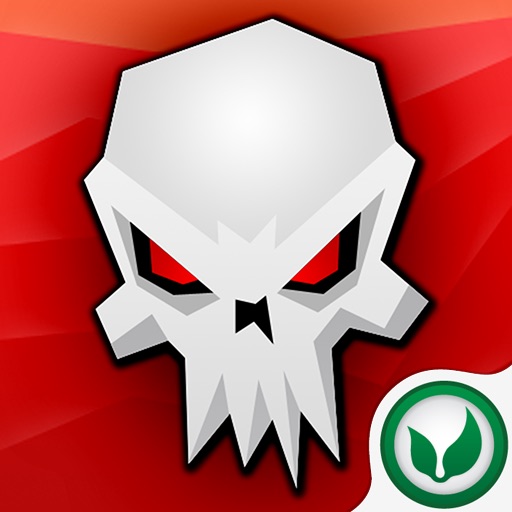 Price: 0.99
Version: 1.3.4
Release Date: 2010-11-15T08:00:00Z
Content Advisory Rating: 9+
Screenshots
Description:
Dungeon Raid is going to challenge your strategy skills to the max! Trace a path and match the tiles to collect treasure, buy and upgrade weapons and defeat monsters in this exciting and addictive puzzle roleplaying game. Things happen fast in Dungeon Raid, so gather your courage and dive in! "Dungeon Raid is an effortless recommendation... download this game now." - TouchArcade "Pick this one up. For its price, they definitely made me feel like it was well worth the money in so many ways" - appSafari "If you're looking for a different type of match 3 game or you're an RPG nut that wants to get a quick fix every now and again, Dungeon Raid is just the game for you" - TouchMyApps "Dungeon Raid manages to capture the essence of both rogue like dungeon crawling, and addictive match 3 in a easily accessible formula" - TouchGen "It's a fun mix of match-three puzzling and role-playing" - Pocket Gamer Dungeon Raid is a puzzle RPG, a blend of puzzle game with roleplaying mechanics. Your mission is to trace a path through a set of matching tiles, but watch out – you may be attacked by enemies who improve as fast as you do. As you go, the object is to collect as many resources as you can, like gold and experience. Get enough points and you can buy or upgrade equipment and level up. All the while, remember to avoid those nasty enemy skull tiles and fight them off for as long as you possibly can. And don't get too greedy, or you risk being overwhelmed! The higher you go in a Dungeon Raid game, the more strategy you're going to need to match a greater number of tiles, grab bonuses and stay ahead of those evil adversaries. Never forget that they improve as the game continues. Keep your wits about you as you play Dungeon Raid. As you level up, there are many trade offs to consider and complimentary combinations of skills to be chosen. If you're not used to the tense pace of the higher levels, go ahead and start on easy difficulty. That gives you the chance to play the game in a more relaxed way, and watch how powerful your avatar can become. Regardless of your skill level, you'll never get bored with Dungeon Raid because there's so much going on! There are hundreds of items to collect, a growing list of character skills and many different strategies for you to use. You'll be itching to play just one more turn, just one more game for hours and days on end. Features: ★ 4 difficulty levels: select a relaxing easy game or go for a challenging and strategic experience ★ 2 challenge modes ★ 400+ unique items to buy and upgrade ★ 77 achievements to unlock ★ 40 diverse abilities to help you and hinder your enemies ★ 30 special monsters to defeat ★ 20 powerful upgrades to apply to your items ★ 10 character classes to unlock & customise ★ Level up and improve your avatar as you kill enemies and collect experience points ★ Global leaderboards using Game Center & OpenFeint ★ Play your own music during the game ★ Constant save system: quit the game and return to it at any time If you want the thrill of playing a truly exciting game, you've come to the perfect place. Download Dungeon Raid now and prepare to be impressed! See this exciting game in action here: http://www.youtube.com/watch?v=eumnCTG0AE8
Release Notes:
- Fixed bug that occasionally made the More Games button trigger when starting new challenge - Fixed unlockable syncing across devices - Vengeful enemy now gains attack instead of HP - Fixed poisoned phylactery glitch - Meat Shield now tougher but receives damage done to other enemies
Price: 2.99
Version: 1.3.10
Release Date: 2011-09-22T04:16:10Z
Content Advisory Rating: 9+
Screenshots
Description:
Green Planet is a beautiful home of the little mechanical life forms known as "Minirobots". While living peacefully, their planet was invaded by an army of robot troops calling themselves "The Machines". These machines tried to turn Green Planet into a space resort and had captured many of the Minirobots, but now they are fighting back! ********************** "Tiny Defense takes the tried and tested tower defense genre and puts it onto a 2D playing field. It works a treat and comes out as one of the very best in its class." – 148Apps.com "This tactical defense game is entertaining and addictive. There is nothing not to love about it." – AppAdvice.com "Tiny Defense is one of the first tower defense titles that I've played that meets up to the expectations of P vs Z." – AppStoreArcade "I like it! Cute, Mario-esque graphics, PvZ gameplay, ample content." – ArcadeLife ********************** Use your wit and tactics to overcome the obstacles and save the gorgeous Green Planet! Collect energy crystal to build your army of robot and fight to rescue your friends. Beware! The enemies are everywhere; on the ground, in the sky, over the sea and even under there! Tiny Defense features bright cartoony graphics with funny characters, easy-to-learn gameplay with a good depth to please strategy fans, a vast number of levels and mini-games with challenging boss fight. Stand united and prove that size doesn't matter in Tiny Defense, a playful challenge for strategy game lovers! ▼ Features ---------------- ▷ Unique side-view, grid base defense game ▷ 150 magnificent levels ▷ 3 episodes with distinguished gameplay ▷ 40 cute robot types to choose from ▷ 32 types of ruthless enemy ▷ 5 different areas (Glass Land, Desert, Underwater, Glacier, Iron Fortress) ▷ 30 fun action/arcade style mini-games ▷ Tons of upgrades, unlockables, and achievements ▷ Over 20 hours of gameplay! *** TIPS: Story Mode continue after the first 50 levels 2 times! Extend the fun to the total of 150 levels! ▼ Requirements (Please check before download!) ---------------- Compatible with iPhone 3GS, iPhone 4, iPhone 4S, iPhone 5, iPod touch (3rd, 4th, 5th gen), iPad, iPad 2, The New iPad and iPad Mini. Requires iOS 4.3 or later ******************* ▼ Get in Touch ---------------- ▷ Follow us! : twitter.com/TinyDefense ▷ Join our fan page : facebook.com/TinyDefense ▷ Tiny Defense Community : pic-soft.com/forum
Release Notes:
• Minor bug fixes and improvements