The top 10 iPhone apps you are currently not using (via @appadvice)
The top 10 iPhone apps you are currently not using (via @appadvice)
Results:
Price: 2.99
Version: 2.2.1
Release Date: 2013-08-06T07:00:00Z
Content Advisory Rating: 4+
Screenshots
Description:
Create your own icons on your Home Screen using Iconical. Easily customise your home screen with your own icons or create useful shortcut icons that perform some of your commonly used actions. Lock your shortcuts to stop people using your apps. YOUTUBE http://iconic.al/u/tutorial Do you want a faster way to make a call without having to find their contact? There's nothing faster than a contact call icon on your home screen. Do you Skype the same person frequently? Create a home screen icon that will open Skype and call that person automatically. Have an icon that stands out too much on your home screen? Simply make your own shortcut icon for that app and hide the original icon (Supported apps only). Features: -Create shortcut icons for 85,000+ supported apps -Create shortcut actions for 250+ supported apps -Lock your icons to stop other people using your apps -Edit your icon by drawing, rotating, zooming -Download any image to use in your icon -Share your icon with friends for them to use What makes us different to other home screen shortcut apps? Most apps need to send the information for your icon to their servers to generate. Iconical works 100% on your device. Some apps state that your icons will stop working if you delete their app. Not with Iconical. Everything needed by your icon is embedded within the icon itself (Unless you are using locked icons). **** The screenshot icons are available here http://www.iconic.al/themes/ ****
Release Notes:
Small bug fix.
Price: 0.0
Version: 2.01
Release Date: 2011-11-30T04:09:15Z
Content Advisory Rating: 4+
Screenshots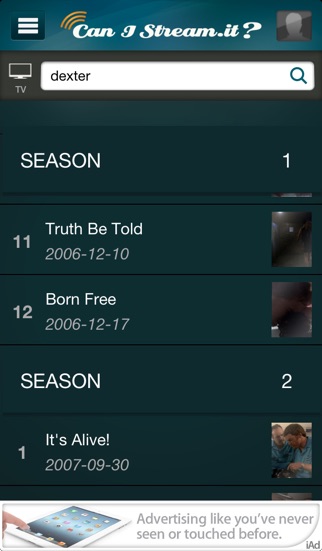 Description:
The fastest and most awesome way to find streaming movies or TV shows to rent or buy, across most major services. Never waste time checking each individual service again! "It's like Kayak for streaming services." - Roberto Baldwin, Gizmodo.com 11/01/2011 Can I Stream It currently searches iTunes, Hulu, Netflix, Amazon Instant Video, VUDU, Crackle, Blockbuster, and XFinity; we are continually adding new services to the list, so remember to check back often. If the movie or TV episode you are looking for is not available, you can: -Set up reminders, or -Push notifications Simply select the show and the service, and the moment it becomes available for your chosen method of viewing, we will inform you. It's not just streaming movies or TV shows anymore. You can check Netflix, Amazon, and even Redbox for DVDs/Blu-Rays as well as their streaming services. And the best part – it's FREE!
Release Notes:
we squashed these bugs: - app crashing when viewing reminders - app crashing when there are a lot of episodes in a TV show We added in additional services like: - XBox - Sony Entertainment rental and purchase - HitBliss Feel that the services list is overwhelming? You can now purchase CISI PRO to hide some of the services that you do not subscribe to.
Price: 0.0
Version: 7.0.3
Release Date: 2011-01-21T01:32:15Z
Content Advisory Rating: 17+
Screenshots
Description:
WeChat is more than a messaging and social media app – it is a lifestyle for one billion users across the world. Chat and make calls with friends, read news and use local services in Official Accounts and Mini Programs, play games with friends, enjoy mobile payment features with WeChat Pay, and much more. Why do one billion people use WeChat? • MORE WAYS TO CHAT: Message friends using text, photo, voice, video, location sharing, and more. Create group chats with up to 500 members. • VOICE & VIDEO CALLS: High-quality voice and video calls to anywhere in the world. Make group video calls with up to 9 people. • REAL-TIME LOCATION: Not good at explaining directions? Share your real-time location with the tap of a button. • MOMENTS: Never forget your favorite moments. Post photos, videos, and more to share with friends on your personal Moments stream. • TIME CAPSULE (NEW!): Share glimpses of your day. Record short videos to post in your Time Capsule before they disappear in 24 hours. • STICKER GALLERY: Browse thousands of fun, animated stickers to help express yourself in chats, including stickers with your favorite cartoon and movie characters. • CUSTOM STICKERS (NEW!): Make chatting more unique with custom stickers and selfie stickers. • OFFICIAL ACCOUNTS: Tons of accounts to follow with original content and news for your reading pleasure. • MINI PROGRAMS: Countless third-party services all within the WeChat app that don't require additional installation, saving you precious phone storage and time. • TOP STORIES: See the latest articles your friends are reading and discover all kinds of interesting content. • GAMES: Have fun and compete with friends in a huge selection of WeChat Mini Games and Tencent Games (available in select regions). • WECHAT PAY: Enjoy the convenience of world-leading mobile payment features with WeChat Pay and Wallet (available in select regions). • WECHAT OUT: Make calls to mobile phones and landlines around the globe at super low rates (only available in select regions). • LANGUAGE SUPPORT: Localized in 20 different languages and can translate friends' messages and Moments posts. • BETTER PRIVACY: Giving you the highest level of control over your privacy, WeChat is the only messaging app to be certified by TRUSTe.
Release Notes:
What's New: - Record a "Time Capsule" to chronicle the world through your eyes. "Blow a bubble" when viewing a friend's Time Capsule to let your friend know you've opened it. - A whole new design with a clearer, more intuitive interface - Configure an alert from a chat's settings screen for a special alert when receiving a message Recent Updates: - From the stickers panel, create and send a Selfie Sticker - Long-press the text input bar in a chat to enter a new line break
Price: 0.0
Version: 8.7.1
Release Date: 2009-10-02T02:50:31Z
Content Advisory Rating: 17+
Screenshots
Description:
See more with Wikitude! Wikitude allows you to see more than your eyes can capture. Our "computer vision" technology is a bit like magic and connects you with the world in a completely new way. Use the app as a tool to experience augmented reality content, campaigns, projects, promotions, games and so much more by simply scanning the things you see! At the core of the Wikitude App is the Power Search, your gateway to unlocking the world of digitally augmented content around you. For example, businesses can provide you with a Search Code that will directly lead to a specific AR experience. Just type it into the search box at the top and let Wikitude augment your world. NEW! The latest Wikitude enhancements allow you to augment not only images but Objects as well! Are you a brand or business that wants to publish augmented reality experiences in just a few click? The Wikitude App in combination with Studio Editor is the ideal package for you! A fundamental benefit of the Wikitude App is that it enables users to easily publish AR projects created in Wikitude Studio Editor. Without the need of any programming skills marketers can now hop on to the web, log into the Studio, create an AR project in as little as 10 minutes and publish it in the Wikitude App right away. Bring packages, banners, brochures, magazines, books, labels, and all sorts of images to life with videos, animations, 3D models, social media and customized buttons. Moreover, projects monitoring and reporting is supported through Google analytics. Visit us at https://www.wikitude.com/app/ and https://www.wikitude.com/products/studio/ to find out more! We're constantly optimizing Wikitude for the best possible user experience on as many platforms and devices as possible. If you've found a severe issue, please let us know about it at bugs@wikitude.com. When doing so, please inform your device type and OS version number.
Release Notes:
Fixes an issue where augmentations for landscape target images are not aligned correctly
Price: 3.99
Version: 6.3.3
Release Date: 2012-04-16T07:00:00Z
Content Advisory Rating: 4+
Screenshots
Description:
Dark Sky is the most accurate source of hyperlocal weather information. With down-to-the-minute forecasts, you'll know exactly when the rain will start or stop, right where you're standing. (It's like magic.) Featured in: New York Times, Wall Street Journal, Fast Company, Wired, and more. YOUR WEATHER, DOWN TO THE MINUTE Dark Sky is able to create forecasts for your precise location, giving you minute-by-minute predictions for the next hour and hour-by-hour forecasts for the next day and week. BEAUTIFUL WEATHER ANIMATIONS The same technology that powers Dark Sky's predictions also allows us to make the world's first perfectly smooth radar animation. Other apps show you a chunky slideshow that makes it nearly impossible to tell how storms are moving. But Dark Sky's radar animation lets you see the actual path of the storm: how it moved in the past, and where it's going in the future. PUSH NOTIFICATIONS Dark Sky comes with advanced notification options: Receive down-to-the-minute alerts before it starts raining at your exact location, get notified of government severe weather alerts (for such things as thunderstorms, flooding, hurricanes, etc.), or even create your own custom notifications covering the next 24 hours for things like temperature, wind, precipitation and more. Even if you haven't opened the app in days, Dark Sky will tell you what you need to know, when you need to know it. TODAY WIDGET The Dark Sky Notification Center Widget tells you at a glance what's going to happen in the next hour and the next week, so you don't even have to unlock your phone to quickly check the weather before heading out. TIME MACHINE Explore weather in the past or future. Choose a date and see historical weather data or future predictions based off of seasonal averages. APPLE WATCH Dark Sky looks great on your wrist. Get notifications and check out the weather for the next week with the Dark Sky app built from scratch for Apple Watch.
Release Notes:
- Fixed a few bugs to make interactions faster and smoother in the map view - Fixed disappearing colors of extreme temperatures on watch complications
Price: 0.0
Version: 108.0
Release Date: 2013-06-06T14:55:36Z
Content Advisory Rating: 12+
Screenshots
Description:
VSCO is a place to express your true self, make beautiful photos on mobile, and connect with a creative community. Take your photography to the next level with quality presets and editing tools, and explore original content made by community members around the world. FREE ON MOBILE Edit with 10 VSCO presets Use basic editing tools like Contrast, Saturation, and Grain Explore inspiring photos and editorial in Discover Share your photos for a chance to be curated by VSCO VSCO MEMBERSHIP ON MOBILE Access VSCO's complete preset library, including 170+ presets Recreate vintage film looks by Kodak, Fuji, Agfa, and others with Film X Use advanced editing tools like HSL, Borders, and Video Editing Explore inspiring tips, tricks, and tutorials tailored for members in Discover Share your work for a chance to be curated by VSCO MEMBERSHIP PRICING AND TERMS The VSCO membership is $19.99 USD per year. Pricing in other countries may vary and charges may be converted to your local currency depending on the country you live in. Start your VSCO membership with a free 7-day trial. Once the trial is over, you'll be charged $19.99 USD/year. Your VSCO membership will automatically renew unless auto-renew is turned off at least 24 hours before the end of the current period. You can go to your Settings > iTunes Account & App Store > Apple ID > Subscriptions to manage your membership and turn auto-renew off. Your iTunes Account will be charged when the purchase is confirmed. Read more about our terms and conditions here — http://vsco.co/about/terms_of_use Read more about our privacy policy here — http://vsco.co/about/privacy_policy
Release Notes:
What's new on VSCO — Fixes for top crashes — Smaller bug fixes and performance improvements Thanks for creating with VSCO! We regularly release updates to improve your experience. Update to the latest version of VSCO for access to our newest presets, editing tools, and inspiring content. If you'd like our help with any issues, please visit vs.co/help.
Price: 0.0
Version: 2.4.8
Release Date: 2014-09-17T19:48:55Z
Content Advisory Rating: 4+
Screenshots
Description:
SwiftKey is the intelligent keyboard from Microsoft that learns your writing style, so you can type faster. SwiftKey is always learning and adapting to match your unique way of typing - including your slang, nicknames and emoji. This means autocorrect that actually works and helpful predictions that let you get your point across fast, without errors. Customize your keyboard to match your style, with dozens of themes to choose from. Send emojis, GIFs and more to your friends – SwiftKey even learns your favorite emoji. Let SwiftKey help you text faster with Artificial Intelligence, swipe typing and more! Download now. TYPE LESS, DO MORE Intelligent Keyboard - SwiftKey learns from you, including your word choice, emoji usage and more - Swipe typing or tap-to-type, whichever you prefer - Toolbar: the expandable menu filled with quick shortcuts GIF and Emoji Keyboard - Express yourself with GIFs and emoji - Send pictures as a sticker to your friends and family - Find the emoji you like to use from our smiley library Customize Your Keyboard - Customize your keyboard size and layout - Dozens of colorful themes - Make your own theme with your photo sticker as the background Multilingual Messenger - Enable up to two languages at once - SwiftKey supports over 150 languages Swipe, type and send messages to all your friends with a predictive keyboard that learns from you! Download SwiftKey and get started. Find out more about SwiftKey's key features: https:www.microsoft.com/swiftkey SUPPORTS 150+ LANGUAGES, including: English (US, UK, AU, CA) Spanish (ES, LA, US) Portuguese (PT, BR) German Turkish French Arabic Russian Italian Polish
Release Notes:
Added: - We've added a new Animal theme pack – 5 new designs, optimized for iPhone X, XS, XR & XS Max. Go and check them out! Fixed: - On larger devices the emoji skin tone selector was not displaying - The height of the keyboard on iPhone XR and XS Max is now set correctly - We've reduced the minimum distance required to trigger Flow – it's now easier to Flow two letters words like 'as' & 'we'.