Best iPad action games without in-app purchases (via @iMore)
Best iPad action games without in-app purchases (via @iMore)
Results:
Price: 0.0
Version: 35.15
Release Date: 2013-05-07T03:03:00Z
Content Advisory Rating: 12+
Screenshots
Description:
You've seen the video - now the lives of those charmingly dumb characters are in your hands. Enjoy 82 hilarious mini-games as you attempt to collect all the charmingly dumb characters for your train station, achieve high scores and unlock the famous music video that started it all. Download the FREE game now to enjoy the new fun and remember, be safe around trains. A message from Metro. GAMEPLAY - Why is his hair on fire? Who cares, just RUN! - Quickly wipe your screen free of puke - Balance that wobbling glue eater - Flick the piranhas out of range of those precious private parts - Swat wasps before it's too late - Best not invite that psycho killer inside - Carefully remove forks from toasters - Help self-taught pilots - Get back from the edge of the platform you fools - Have patience at level crossings - No crossing the tracks! Not even for balloons! - And who knew rattlesnakes were so picky about mustard? Plus loads more! PLUS - Perfect your dumb-death prevention skills to unlock the full set of characters for your train station - Earn your own local copy of the original video - Create your own Dumb Ways character from loads of facial features, accessories and more! Watch the original Webby and Cannes award-winning video here: www.youtube.com/watch?v=IJNR2EpS0jw
Release Notes:
Celebrate the holiday season in a new Thanksgiving themed Dumb Ways to Die update! Give gratitude and help those pesky Beans stay safe as they cook up a storm in two brand new minigames, available for a limited time.
Price: 2.99
Version: 1.3.4
Release Date: 2013-05-09T07:00:00Z
Content Advisory Rating: 4+
Screenshots
Description:
IMPOSSIBLE ROAD is a pure, minimal arcade game about risk, reward, and rollercoasters. "9/10" - Edge Online Game of the Week - PocketGamer Guide THE VESSEL down the roller coaster-like track at speed, scoring for each gate you make it through. Navigate hair-pin bends, jumps, banked curves and adverse camber in the quest for the perfect line. And when you learn how to cheat the game, and you discover that it is rewarded not punished, the leaderboards will belong to you. - Universal app, for iPad, iPhone, iPod touch. - 3D Touch support (3D Touch compatible device required) - Support for iOS controllers and some other arcade control peripherals. - 4 colour themes - Original minimal techno soundtrack. - Game Center leaderboards. - Challenge your friends to beat your score. [Controls] Touch the left side of the screen to turn left, touch the right side of the screen to turn right. Touch your score to show the Quick Restart button. [Credits] Design, coding, art and audio - Kevin Ng @gradiance Play testing and feedback - the wonderful people of @GameDevEd: Andy Durdin @adurdin Trevor Fountain @doches Aaron Dron @tinyblob Jonathan Brodsky @jonbro Paul Scott Canavan @abigbat Gillian Patterson NAE TWITTER Andy Watson @andywatson00 Peter Van Der Watt @tenebrious Ian Usher @FatConan Ben Newbon @bennewbon Gavin Jones @aotumedia Kayleigh Boyd @Silverlynxcat
Release Notes:
This app has been updated by Apple to display the Apple Watch app icon. - Support for iPhone X - Changed dark theme to use 100% black background - Removed logo splash screen for a cleaner experience - New button designs in UI
Price: 0.0
Version: 2.3.31
Release Date: 2014-03-05T09:03:45Z
Content Advisory Rating: 4+
Screenshots
Description:
Wave Wave is a savage arcade video game by Thomas Janson, with music by Danimal Cannon and Zef. Selected as part of the PAX Australian Indie Showcase 2014. Wave up and down to survive the gauntlet of geometric doom. Hectic. Extreme. Addictive. Racing. Tumultuous. Blitzing. Electric. Anaerobic. Treacherous. * Fearless game play. * Fall into 'the zone' where your brain switches off. * Overcome mind-to-finger-to-screen latency. * Includes incredible 8 track album 'Parallel Processing'. * 4 modes of play, 5 difficulties, 10 challenges. * Play Versus Mode and take it in turns to win. * Record game play on-device to share online. This game will test you. ************************************************** GameClub is a subscription mobile gaming service. If you like our games, try our auto-renewing monthly subscription for 30 days free, and play all of our games with no limits, no ads, no hidden fees, and no other in-app purchases. If you choose to purchase GameClub's optional subscription, payment will be charged to your iTunes account at confirmation of purchase. No charge will be made for the free trial period. Your subscription automatically renews unless auto-renew is turned off at least 24 hours before the end of the current period. Your account will be charged for renewal within 24 hours prior of the current period, at the cost indicated. You can manage your subscriptions and turn off auto-renewal by going to your App Store account settings after purchase. Any unused portion of a free trial period, if offered, will be forfeited when the user purchases a subscription to that publication, where applicable. Terms of Use: gameclub.io/terms Privacy Policy: gameclub.io/privacy _________ If you have any questions, please contact us at support@gameclub.io Facebook: facebook.com/gameclub Twitter: twitter.com/gameclub Thank you!
Release Notes:
Thanks for playing this GameClub game! This update contains bug fixes and performance improvements. Let's play!
Price: 2.99
Version: 3.0.2
Release Date: 2012-08-31T01:04:48Z
Content Advisory Rating: 4+
Screenshots
Description:
Super Hexagon is a minimal action game by Terry Cavanagh, with music by Chipzel. Super Hexagon was a best of 2012 runner up for game of the year on the app store. "A masterpiece of design purity" - EDGE 9/10 "This is the kind of game you're going to pass off to your friends and say, "You've gotta check this out." It's dangerously addictive." - IGN 9/10 "One of the best mobile gaming experiences I've had this year." - Destructoid, 10/10 "Knows exactly what type of game it wants to be and executes on it spectacularly. Merciless difficulty meets brilliant design." - Gamezebo, 5/5
Release Notes:
This app has been updated by Apple to display the Apple Watch app icon. 3.0.2: Minor patch for 3.0. 3.0: Welcome to Super Hexagon 3.0! This new version supports iPhoneX, brings 120 FPS support to ProMotion enabled iPads (iPad Pro 2017+), and supports iOS 11.3. This is all possible thanks to our new GLKit renderer, which should also bring faster performance and increased battery life to all devices! In addition, you can now also play the game on iPad Pro smart keyboards (as well as the existing support for MFI controllers.) Thank you so much for playing Super Hexagon. I hope you enjoy the update!
Price: 1.99
Version: 1.2
Release Date: 2014-04-17T07:00:00Z
Content Advisory Rating: 4+
Screenshots
Description:
Unpossible will test your skills, your reflexes, and even your memory. It will make you smile. It will probably make you scream. You will die often and it will always be your fault. Fight to learn the obstacles…they already know how to fight you. Relentless. Thrilling. Unpossible! "Best New Games" - Apple "Editors Choice - Unpossible is a wonderful example of its genre and is a must-buy." - 148 Apps "Game of the Week" - TouchArcade "Unpossible will be your next twitch game obsession...Playing Unpossible is a total rush." - TouchArcade "Woah. Wooooaaaahhh!" - Jared Nelson, TouchArcade "A menacingly tough twitch runner, Unpossible is a highly polished, highly enjoyable addition to the genre" - Pocket Gamer "Super Highly Recommended! - 5 stars" - The Chatroom "Unpossible is unpossibly brilliant" - Sirloin Apple "Wenn man anfängt zu überlegen, hat man schon längst verloren" - AppGefahren.de "Sin duda este juego es excelente, mostrando buenos gráficos, buena jugabilidad y una excelente dificultad." - Apple5x1.es Unpossible is played with easy to learn controls with options for touch, tilt and external controllers. Each control scheme is designed so the controls get out of your way. You'll feel at one with the game. Gameplay levels: Simplicity: Super approachable introduction to the Unpossible world. Hone your skills here. Last 60 seconds in Simplicity to unlock Futile and Daily Futile. Futile: Where most people will spend their time. Faster than Simplicity, Futile will find your weakness and make you conquer it. Survive for 60 seconds in Futile to unlock Ultra and Daily Ultra. Ultra: It's Ultra Unpossible. This is the pinnacle of Unpossible. The obstacles spin, the sequences you learned before will need to be unlearned. You will be challenged all the way to your soul. Ultra is hardcore. Masocore even. Only the strongest will make it through Ultra. Daily gameplay levels: Daily Simplicity, Daily Futile and Daily Ultra. If you like to practice the same level, these levels are for you. These levels are the same difficulty as their namesakes except the levels stay the same for a full day. There are also special achievements for the daily levels - beat them every day to find out! Special mode: Cruise: This is the zen level. You can't die. Practice your turns if you'd like or hang your device on a wall to make a live-action art piece. It's chill. The Unpossible hand-picked, award-winning development team: Game design & programming: Bryan Duke, Acceleroto CFO: Tanya Duke, Acceleroto Art director: Michael Heald, Fully Illustrated Artist: Mike Berg, We Heart Games Composer/musician: Mark Cook Sound effects: Matt Piersall, Gl33k Please follow us on Twitter at http://twitter.com/acceleroto (@Acceleroto)
Release Notes:
This app has been updated by Apple to display the Apple Watch app icon. IT'S HERE!! The new update for Unpossible is in your hands! Here's all the new awesomesauce: - It's now a 64-bit app so it can run on your new hotness hardware & operating system. Tell your buds it's back! - Rock those jams! (Fixed the background music.) - Completely re-glowed the glowy things. GLLLOOOOOWWWWW! - Improved the level creation logic. - Updated iCloud integration. - Changed Twitter/Facebook button functionality. - Removed some piles of un-needed code & libraries. Who needs those anyway? - Updated shaders on the menu & a few other places for more shadery goodness. - Restructured sub-menu 3d ordering so that things show correctly & looked perfectly 2d. Go figure. - Updated button sounds. - Updated all 3d sounds. Whoosh! - Fixed menu zooming & positioning so that the menus fit all the devices. Snug as a bug in a rug! - Massaged the track glow texture so it looks better when you're zipping along the course at Ultra speeds. Zoom zoom zoomy glowwww! - Fixed the challenge menu. Finish a game & hit the challenge button to challenge your friends! - Tweaked the auto-framerate/glow/GPU settings. - The player death explosion is more/different explosiony. Thanks for playing Unpossible and thanks for reading the entire update notes! If you made it this far, you're a hero. Tweet something out with #unpossible and #theend in it!
Price: 0.0
Version: 5.8.7
Release Date: 2014-07-24T07:00:00Z
Content Advisory Rating: 17+
Screenshots
Description:
Create a squad from 11 classes, add your friends for team play, and test your skills in dynamic arenas or through Battle Royale warfare against online rivals from around the world! Prefer to work alone? Then feel free to step into the thrilling solo play campaign as you shoot your way through one dire situation after another to save the world as you launch an attack against a lunatic's apocalyptic plans. 11 CLASSES WITH UNIQUE SKILLS > Customize and level up any of the 10 classes across solo play and team play modes. > Find the playstyle that suits you: Assault, Heavy, Recon, Sniper, Support, Bounty Hunter, Sapper, X1-Morph, Kommander, Marauder or Tracker. > Activate class-specific skills by earning and spending Skill Points. HIGH-POWERED ONLINE MULTIPLAYER > Watch players engaged in live online FPS battles and eSports competitions with all the great graphics you expect in the Spectator mode. > Epic guns-a-blazing team play in Squad vs. Squad matches. > Drop into Battle Royale mode and fight for survival with up to 70 players. > Talk to other players to plan your online multiplayer strategies and coordinate an attack in the Global and Squad Chats. > Top the individual and Squad leaderboards as you master your eSports skills. > Win free rewards and cool prizes in limited-time events. RANK UP > Accumulate XP and level up by playing solo play missions, team play matches, and Battle Royale. > Unlock higher-tier guns and other weapons by mastering lower-tier guns. > Customize the perfect weapon using a host of attachments and jump straight into the free game action. INTENSE SOLO PLAY CAMPAIGN > Engage in fast-paced story missions where the call will take you from Tokyo to Venice for a variety of first person shooter challenges. > Play the new Spec Ops missions for a real online FPS adrenaline rush. > Great graphics, music and voice performances perfectly adapted for a first person shooter game. HIGHLY CUSTOMIZABLE CONTROLS > Intuitive, highly customizable controls so you can play the game just the way you want. Modern Combat 5 requires an Internet connection. So if you're ready for the online FPS of your dreams, dive into this unparalleled free game that takes online multiplayer to new heights. Perfect for anyone hungry for solo play first person shooter fun, team play eSports competition, or a thrilling Battle Royale challenge. This app allows you to purchase virtual items within the app and may contain third party advertisements that may redirect you to a third party site _____________________________________________ Join our Discord: https://discord.com/invite/moderncombat Visit our official site at http://gmlft.co/website_EN Check out the new blog at http://gmlft.co/central Don't forget to follow us on social media: Facebook: http://gmlft.co/SNS_FB_EN Twitter: http://gmlft.co/SNS_TW_EN Instagram: http://gmlft.co/GL_SNS_IG YouTube: http://gmlft.co/GL_SNS_YT Privacy Policy: http://www.gameloft.com/en-gb/privacy-notice Terms of Use: http://www.gameloft.com/en-gb/conditions-of-use End-User License Agreement: http://www.gameloft.com/en-gb/eula
Release Notes:
Various bug fixes and improvements
Price: 2.99
Version: 1.12
Release Date: 2014-10-02T07:00:00Z
Content Advisory Rating: 9+
Screenshots
Description:
The ultimate twin-stick action-RPG/shooter is here! Inferno 2 is the sequel to Inferno+, Radiangames' critically-acclaimed twin-stick action-RPG. Inferno 2 boasts even more devious levels, more weapons, more upgrades and powers, more enemies, and more customization, along with more insane explosions and particle effects. BIGGER, BETTER, BADDER! Inferno 2 is everything Inferno+ fans have been waiting for: * Play through 80+ levels of atmospheric awesomeness for hours of gameplay! * An all-new arsenal of weapons and extensive upgrade system! * Responsive and customizable touch controls (with full MFi controller support) * 3 difficulty levels (change it up at any time) * New Game+ mode adds even more replayability, challenge, and variety * Over 50 enemy types * All-new special level types and goals * Tons of secrets to discover * All-new soundtrack! * GameCenter achievements. Delve into Inferno 2 for the ULTIMATE TWIN-STICK ADVENTURE!
Release Notes:
Improved controller support (iOS13). iPhone X and newer support.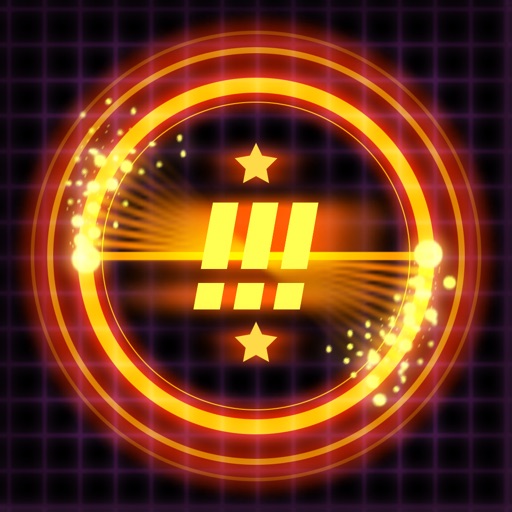 Price: 0.0
Version: 1.1.2
Release Date: 2013-08-01T07:00:00Z
Content Advisory Rating: 4+
Screenshots
Description:
COMPATIBILITY NOTICE: This app will NOT be available on any device with iOS 11 or NEWER. It will still work on devices with iOS 10 or older but support will no longer be provided. ***Named Editor's Choice in the iOS App Store! Dropchord is a music-driven, score challenge game with mesmerizing visuals and an original electronic soundtrack! Influenced by music visualizers and score attack arcade games, Dropchord is an original experience that'll test your dexterity while providing endless fun! * Use your fingers to manipulate a beam crossing the extent of a circle. Dodge scratches while you collect notes to progress to the next track! * Ten original, full length electronic tracks stream seamlessly to create an endless DJ set! * "Standard Mode" challenges you to a level-based experience, introducing new game mechanics as the music progresses! * "Full Mix Mode" provides an endless experience with a steadily increasing difficultly! * Global and Local Leaderboards save your high scores for competition with your friends and younger self! Do your fingers and ears a favor-- get Dropchord today!!
Release Notes:
Added link for purchasing the soundtrack on vinyl!