Get Crazy With Your Biking Skills. Best BMX Games for iOS (via @iGeeksBlog)
Get Crazy With Your Biking Skills. Best BMX Games for iOS (via @iGeeksBlog)
Results:
Price: 0.0
Version: 1.7.1
Release Date: 2011-05-26T07:00:00Z
Content Advisory Rating: 4+
Screenshots
Description:
- Chosen by Apple as one of the three best iPhone games of 2011 - Awarded Best Sports Game at the International Mobile Gaming Awards 2012 --------------------------------------------------- Become a BMX pro and perform spectacular tricks in breathtaking locations all over the world. Your skill and imagination are the only limits to the tricks you can pull off! Impress your friends by uploading your best runs to YouTube and Facebook. We took everything that made Touchgrind into an App Store classic to the extreme and created Touchgrind BMX. At Illusion Labs we only release games that we are extremely proud of. We feel that BMX is the pinnacle of our productions to date! Stunning 3D graphics, amazing physics and realistic sound. Collect medals and complete challenges to unlock many different bikes and locations. Watch replays, generate videos, export to your computer or upload to YouTube and show all your friends on Facebook, by just a few clicks. FEATURES - True physics - The same revolutionary controls as seen in the original skateboarding game Touchgrind - Many unlockable bikes and locations - Earn medals and complete challenges at every location - Record and replay your runs - Create replay videos and show the world
Release Notes:
1.7.0 Touchgrind BMX is now free to try. If you purchased this game before this update your current levels will remain unlocked. 1.7.1 Fixed bug with in-app purchase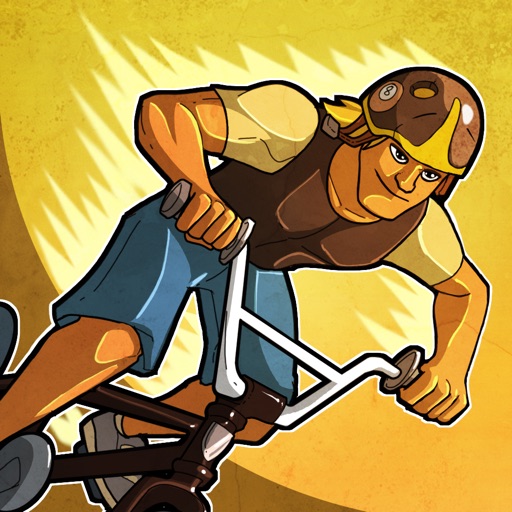 Price: 0.99
Version: 1.4.0
Release Date: 2012-08-16T07:00:00Z
Content Advisory Rating: 9+
Screenshots
Description:
CLEAR YOUR SCHEDULE: MAD SKILLS BMX IS OUT! Updated to make full use of the iPhone 5 screen. The makers of the most addictive racing game ever made, Mad Skills Motocross, have done it again. Apologize now to your girlfriend, boyfriend, wife or husband for all the time you're about to spend on the best BMX racing arcade game of all time. Features RACE 40 CHALLENGING TRACKS AND MORE TO COME! Beating Mad Skills BMX is no easy feat. To do so, you'll need to be on your game through 40 rad levels in four different classes: Novice, Intermediate, Expert and Pro. Pedal, pump and flip your way through insane tracks as you find new lines to shave off precious seconds and improve your times. The more you play, the faster you get. UNBELIEVABLE PHYSICS AND INNOVATIVE NEW CONTROLS! Based on real BMX racing, the physics of Mad Skills BMX will blow your mind. Realism and arcade action combine for a completely unique experience. And innovative swipe controls make the game easy to control for beginners but a challenge to master for high-level gamers. You've never played a game like this before. COMPETE AGAINST YOUR FRIENDS! Connect to Facebook to race against your friends' best times on every track, to watch replays of their times, and to fight your way up the leaderboards. And we'll be adding more ways to connect with friends soon! Social gaming has never been so fun. CHANGE YOUR CHARACTER! Choose to race with a number of included characters, from the realistic to the fantastic. And if you're one of the best in the world, you'll earn an exclusive skin that even money can't buy. MUSIC BY STRUNG OUT! Rock out to an awesome soundtrack by legendary punk band Strung Out, or race to your own music. AND MORE! * Interactive tutorial to learn how to shred. * TONS OF UPDATES TO COME, including new track packs and rider skins (both free and IAP), Game Center achievements, more ways to connect with friends for social play, and much more. We update like crazy! * Universal application: Buy it once and play it on all of your compatible iOS devices * Beautiful retina-optimized graphics for an amazing gameplay experience. See the official trailer here: http://www.madskillsbmx.com/trailer Like Mad Skills BMX at www.facebook.com/madskillsbmx Follow Mad Skills BMX at www.twitter.com/madskillsbmx Gift this app! Just click the arrow beside the Buy App icon. Don't miss Mad Skills Motocross, perhaps the most addictive game ever made for iOS!
Release Notes:
* Reverted back to old tutorial since a lot of beginners had trouble getting past some of the obstacles * Minor bug fixes
Price: 0.0
Version: 1.5
Release Date: 2011-07-18T08:10:51Z
Content Advisory Rating: 4+
Screenshots
Description:
Stickman BMX Free - The long awaited sequel to the smash hit game 'Stickman Skater' is finally here! Our hero Stickson returns in the latest installment to test his skills on a street BMX bike. Do you have what it takes to survive the wide variety of terrain including forests, cities, oil refineries and the ultimate test that is living hell! Simple to pick-up-and-play with plenty of depth to keep the avid gamer entertained for hours. Features Include: * Fast paced scrolling levels packed full of excitement. * Wonderfully detailed locations with interactive obstacles and inhabitants. * Hundreds of combinations of real BMX tricks. * Hidden paths and routes in all levels to explore. * Completely re-engineered physics engine. * Gamecenter leaderboards.
Release Notes:
CELEBRATING the launch of Stickman Surfer! * Unlocked access to all levels * Unlocked Race mode * Unlocked Skateboard