The Best Video Editor for iPhone (and its Free!) (via @lifehacker)
The Best Video Editor for iPhone (and its Free!) (via @lifehacker)
Results:
Price: 0.0
Version: 4.27.111
Release Date: 2010-12-23T23:07:53Z
Content Advisory Rating: 4+
Screenshots
Description:
Simple yet powerful, Splice makes it easy to create fully customized, professional-looking videos on your iPhone or iPad. Imagine the performance of a desktop editor, optimized for your mobile device. Just tap to trim clips, add slow motion effects, and overlay multiple clips to create beautiful videos you'll love to share. It's never been easier to edit like a pro on the go. POWERFUL EDITING TOOLS MADE SIMPLE + Trim, cut, and crop your photos and video clips. + Refine your clips by adjusting exposure, contrast, saturation, and more. + Adjust playback speed for fast or slow motion, now also with speed ramping. + Overlay photos or videos and apply masks to create incredible effects. + Remove background with Chroma Key. + Animate your clips with the Ken Burns effect. + Apply filters and adjust background colors, orientation, and more. + Add amazing effects: glitch, chroma, vintage, and lots more. + Choose your transition style and control the speed between transitions. + Add title slides, text overlays, and a custom outro. + Bring your photos to life and create slideshows with pan and zoom effects. CUSTOMIZE THE PERFECT SOUNDTRACK + Choose songs from 6,000+ royalty-free tracks from Artlist and Shutterstock libraries. + Trim and mix multiple audio tracks with precision. + Use a song from your own iTunes collection (subject to iTunes terms). + Add narration or custom sound effects with the built-in voice recorder. EASILY SHARE + SAVE YOUR VIDEO + Share right to YouTube, Instagram, TikTok, Facebook, Mail, Messages, and more. + Save videos to your camera roll. SUBSCRIPTION INFO: Subscribe to take advantage of the features described above. • Subscription length: weekly, monthly, yearly • Your payment will be charged to your iTunes Account as soon as you confirm your purchase. • You can manage your subscriptions and turn off auto-renewal from your Account Settings after the purchase. • Your subscription will renew automatically, unless you turn off auto-renew at least 24 hours before the end of the current period. • The cost of renewal will be charged to your account in the 24 hours prior to the end of the current period. • When canceling a subscription, your subscription will stay active until the end of the period. Auto-renewal will be disabled, but the current subscription will not be refunded. • Any unused portion of a free trial period, if offered, will be forfeited when purchasing a subscription. Have a feature request you would like to see in a future version of the app? Do not hesitate to contact us at splice@bendingspoons.com
Release Notes:
Hi there, beloved Splicer! You may be wondering what we've done, To Splice up your favorite app under the sun. Well, if truth be told, just a few little tweaks, Some minor adjustments from our in-house geeks. We're glad to say the bugs are gone, Pesky blighters were bugging everyone. We've also applied our trademark polish, Please enjoy the app … sorry we forgot the chorus! Love from the Splice team
Price: 0.0
Version: 3.0.2
Release Date: 2010-06-24T04:45:34Z
Content Advisory Rating: 4+
Screenshots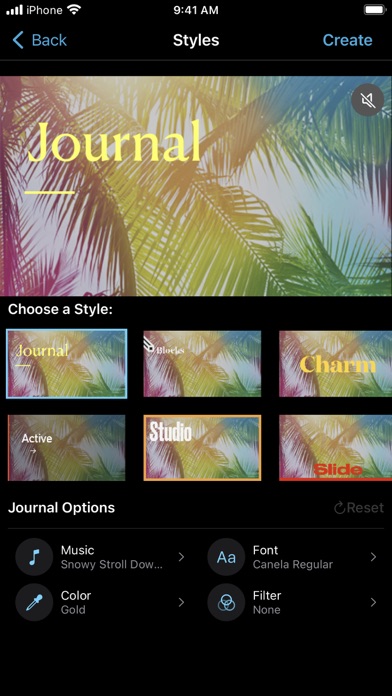 Description:
With a streamlined design and intuitive Multi-Touch gestures, iMovie lets you create Hollywood-style trailers and beautiful movies like never before. Instantly create Magic Movies • With just a few taps, you can create and share a beautiful, custom video • Select an album or group of videos or images and iMovie will create a video for you—no video editing required—with titles, transitions, and music • Easily rearrange or delete clips in the simplified shot list • Apply a different style to change up the look and feel of the whole video Learn storytelling with Storyboards • Choose from 20 Storyboards that help you get started with popular video types • Record video or take photos right into each placeholder clip, or add media from your Photos library • Add, reorder, and delete clips as needed to organize and customize your story • Apply a dynamic visual style that include title layouts, fonts, filters, color palettes, and music Make Hollywood-style trailers • Choose from 14 trailer templates with stunning graphics and original scores by some of the world's top film composers • Customize movie studio logos, cast names, and credits • Select videos and photos for your trailer or record video right in iMovie Create beautiful movies • Choose from 8 unique themes with matching titles, transitions, and music • Give your movie the perfect look with 13 Apple-designed video filters • Choose from 11 animated title styles like Split, Reveal or Pop-up • Adjust any title by changing its font, color, size, location, and more • Add solid, gradient, and patterned backgrounds to your movie • Import and edit video captured in Cinematic mode on iPhone 13 or later • Add, adjust, and delete focus points and modify the depth of field effect in video recorded in Cinematic mode* • Easily add picture in picture, green screen, and split screen effects • Select from more than 130 soundtracks that automatically adjust to the length of your movie • Add sound effects, songs from your music library, and your own narration • Connect a keyboard and use simple shortcuts to edit movies quickly • Connect a trackpad or mouse to iPad for fast and accurate moviemaking iMovie everywhere • Transfer projects between your iPhone and iPad using AirDrop or iCloud Drive • Send projects to your Mac via AirDrop or iCloud Drive to finish editing with iMovie or Final Cut Pro • Connect an external display to your iPhone or iPad and choose to mirror the iMovie interface or display your video fullscreen while you edit** Share with friends and family • Send videos with Mail and Messages • Save to your Photos library in resolutions up to 4K at 60 frames per second*** • Export videos optimized for Instagram, YouTube, and other popular video destinations * Requires iPhone XS or later, iPad mini (5th generation or later), iPad Air (3rd generation or later), iPad Pro 11-inch or iPad Pro 12.9-inch (3rd generation or later) ** External display support requires iPhone 7 or later, iPad (6th generation) or later, iPad Air 3 or later, iPad Pro 12.9-inch (2nd generation) or later *** 4K at 60 frames per second support requires iPod touch (7th generation), iPhone SE (2nd generation), iPhone 7, iPad (6th generation) or later, iPad mini (5th generation), iPad Air 3 or later, iPad Pro 10.5-inch or later
Release Notes:
iMovie 3.0.2 includes the following enhancements and bug fixes: • Easily open your iMovie project in Final Cut Pro for iPad and take advantage of advanced editing and effects. • Adds support for log-encoded video recorded with iPhone 15 Pro. • Fixes an issue where selecting an iMovie project in the Files app would sometimes result in the project not opening. • Fixes an issue where exporting a video would sometimes result in displaying an incorrect "Storage Almost Full" error.
Price: 0.0
Version: 3.8.5
Release Date: 2014-02-16T08:00:00Z
Content Advisory Rating: 4+
Screenshots
Description:
Try advanced features to create stunning videos with movie editor VidLab. Add music, animate text, apply trendy filters and make your videos look professional! VidLab is a multi-track, multi-clip video editor that allows you to easily create beautiful, fun videos & photo stories by adding text, artwork, music, video, sound effects, overlays, voice-overs & more to your videos (and photos)! Features Include: ADDING & ANIMATING TEXT OVER VIDEOS: Choose from a beautiful collection of fonts to add text over your videos. VidLab allows you full control of the positioning, animation, opacity, and size of your text. Ideal for the mobile creative. VIDEO COLLAGES: Choose from unique collage templates to wow your friends, family & fans on social media. ADD YOUR OWN FONTS: Choose from the wonderful collection of fonts that come with VidLab, or easily install custom fonts from your own collection. ADD STUNNING VIDEO EFFECTS & FILTERS: Choose from an ever-growing collection of video effects, including light leaks, vintage & projection effects, snow & rain simulation, and much more. PHOTO SLIDESHOWS: Import photos into your video project, or create a photo story to bring your moments to life. ADD MUSIC & SOUND FX: Import music from the entire iTunes catalog & choose sound effects to add to your video. VidLab gives you full control of audio volume and fade ins/outs. ADD IMAGES & LOGOS: You can import any image from your camera roll & phone library into your video or photo story project. This is ideal for adding watermarks / logos, picture-in-picture, or other transparent PNGs that you'd like to add to your videos. Get creative! SAVE & SHARE: Save your video & share it to your favorite social networks, including Vine & Instagram! Payment will be charged to your Apple ID account at the time of purchase confirmation. Subscription renews automatically unless it is canceled at least 24 hours before the end of the current period. Your account will be charged for renewal within 24 hours prior to the end of the current period. You can manage and cancel your subscriptions by going to your account settings on the App Store after purchase. Privacy Policy: https://onelightapps.io/privacy-policy Terms of Use: https://onelightapps.io/terms-of-use
Release Notes:
- Performance and stability improvements Love the app? Rate us! Got questions? Contact us via Support section.