The Independent Games Festival Announced 2015's Finalists (via @toucharcade)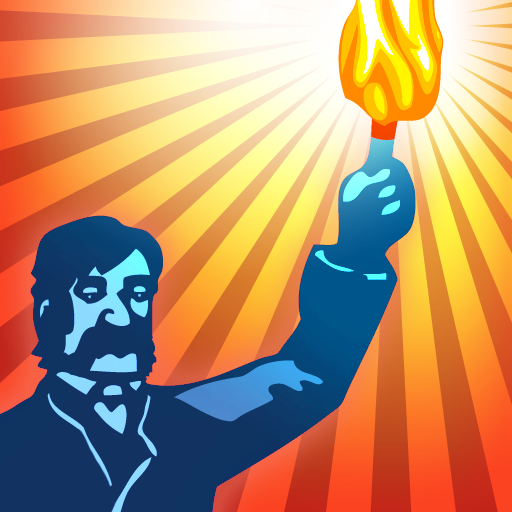 The Independent Games Festival Announced 2015's Finalists (via @toucharcade)
Results:
Price: 0.99
Version: 1.7
Release Date: 2010-07-10T22:05:48Z
Content Advisory Rating: 4+
Screenshots
Description:
When the implacable Professor Helsing and his assistant Raffton travel to The Shadow Blight, they'll need every weapon at their disposal to defeat Dracula's vampire horde. In this captivating, dark Gothic puzzle-adventure, use Dr. Helsing's powerful torch and tonics to save the world from the demonic uprising! AWARDS AND ACCOLADES This is no ordinary game! Helsing's Fire is recognized around the world as one of the App Store's premier puzzle games; full of charm and challenge. IGF 2011 - Best Mobile Game Finalist IGF 2011 - Excellence in Design Honorable Mention IGF 2011 - Excellence in Visual Art Honorable Mention SlideToPlay - The 50 Best iPhone Games of 2010 (#7) TouchArcade - Best iPod Touch and iPhone Games (Puzzle) AppAdvice - The Very Best iPhone Games of 2010 (Puzzle) TheAppera - Best iPhone Games 2010 TouchGen - Editor's Choice Awards (Puzzle Runner-up) PRESS QUOTES SlideToPlay ... Helsing's Fire is one of those puzzle games that does something completely original and is unbelievably entertaining. Eurogamer ... With its insidious wit and gothic charm, Helsing's Fire is a joyously original instant classic that iPhone owners should buy immediately. TouchArcade ... It's one of the most unique games I've ever played and is a true App Store gem. Surely only a creature of darkness would let this one slip by them. TheAppera ... Helsing's Fire reinvents the puzzle yet again with some light and dark dynamics I guarantee you have NOT seen yet. Prepare to be enthralled! GamePro ... This is a game that would absolutely only work on the iOS platform, and it's hands-down one of the best games on the App Store. It gets my highest recommendation. ADDICTIVE PUZZLES Helsing's Fire features a brand-new puzzle mechanic never before seen: use the touch-screen to position Helsing's torch to illuminate different combinations of monsters, then destroy them in the correct order using Raffton's supply of different tonics. The quick, rewarding puzzles make it a perfect game for brief play-sessions, but you'll always want to play 'just one more level'! A HUGE, DARK UNIVERSE With puzzles set across four worlds, with 30 different levels in each world, all featuring fifteen different monster types including four bosses, Helsing's Fire provides an incredibly rich, deep, and varied game experience. And because on replays puzzles are re-generated randomly, the game will always be fresh! COMPELLING SETTING The Victorian theme, Gothic setting, and engaging characters make Helsing's Fire one of the most appealing story-oriented puzzle games released. Add to that the distinct minimalist style of the character portraits, the incredible dynamic lighting of the shadows cast by your moving torch, and an original soundtrack, and it's clear that Helsing's Fire presents an epic experience. Designed just for the iPhone, this is high-quality mobile gaming at its finest. MULTIPLE MODES AND ACHIEVEMENTS As if the 120 distinct levels weren't enough, Helsing's Fire also comes with additional Endless Survival and Online Bounty modes, for the bravest of the brave! And when you've stood against the horde as long as you can, you can post your scores on the fully-integrated Crystal leaderboards, earning achievements for your accomplishments and claiming bragging rights from your friends. Dracula must be stopped. Raffton, take the tonics: it's time to head into the Blight!
Release Notes:
This app has been updated by Apple to use the latest Apple signing certificate. Various bug fixes and improvements
Price: 2.99
Version: 2.2
Release Date: 2012-02-16T08:00:00Z
Content Advisory Rating: 4+
Screenshots
Description:
RHYTHM. STEALTH. PUZZLE. When all the clocks in the world are stolen by Duke Clockface and the world is in chaos, it'll be up to the Beat Sneak Bandit to steal them back! - Rhythmadelic controls: Everything in this game moves rhythmically, just like the simple controls: Tap to the beat to sneak! - Stealthalicious gameplay: Sneak past patrolling guards, security lights, trapdoors and all the other freaky stuff and contraptions the creepy Duke's got in store for you! - Puzzletastic levels: Watch, listen and learn the rhythm patterns to figure out how to solve all of the sneaky puzzles! Winner of Best Mobile Game in the Independent Games Festival 2012 Winner of Best Audio Design 2012 in the Edge Awards 2012 Winner of Best Gameplay at the Unity Awards 2012 Winner of Best Mobile Action in Jayisgames.com Best of 2012 Awards Winner of Best Mobile Puzzle Games in IGN's Best of 2012 Awards Nominated for Audio Achievement at BAFTA 2013 Nominated for Excellence In Innovation at International Mobile Gaming Awards 2012 Nominated for Excellence In Gameplay at International Mobile Gaming Awards 2012 Nominated for Best Mobile at the Golden Joystick Awards 2012 Finalist at Indiecade 2012 Chosen by Apple as iPad Game of the week 9/10 - Edge 9/10 - IGN 5/5 - TouchArcade 9/10 - Pocketgamer 5/5 - Appspy 9/10 - Videogamer.com 5/5 - Hookshot Inc. 4/4 - Slide to Play 5/5 - TouchGen 5/5 - Gamezebo "It's rare to find a game that does something so original so well, with every element of gameplay and design falling into place. Simogo has pulled it off with Beat Sneak Bandit. In my books it's a must buy, and such a shame it would be to miss out." - TouchArcade "It's impossible not to fall in love with this funky little number." - Videogamer.com "Beat Sneak Bandit is polished, challenging, wholly original and a heck of a lot of fun. It's a great example of how presentation, control and design can come together to create a cohesive and extremely fun package. Don't miss it!" - IGN "Quick to get into but devilish in the detail, Beat Sneak Bandit makes all the right noises, and in what's already a strong year for mobile gaming, this is the best iPhone game I've played." - Eurogamer "Every now and again though, a game comes along for iOS that knocks you for six, and re-ignites your passion for not just iOS gaming, but gaming in general. Well, Beat Sneak Bandit is one such game." - Touchgen "It's an unlikely mix for sure, but Beat Sneak Bandit's smart blend of puzzling and beat-matching proves to be an ingeniously crafted delight." - Pocketgamer "You'll be hard pressed to put this game down until you've 'clocked' it entirely - a must have for all iPhone gamers." - Appspy "A true work of art, in so many ways. It's smart. It's challenging. It's gorgeous. But most importantly, it's fun - dizzying, dreamy, and delightful fun." - Gamezebo
Release Notes:
- Added support for new devices
Price: 4.99
Version: 1.27
Release Date: 2014-07-31T07:00:00Z
Content Advisory Rating: 12+
Screenshots
Description:
*** Four BAFTA-nominations -- TIME Game of 2014 -- IGF Award for Narrative Excellence -- IMGA Award for Narrative -- DICE nominated *** "We've been dreaming about this future for decades. Guess what? It's here." - New York Times *** "Interactive storytelling as its best" - The Guardian *** 9/10 Edge Magazine *** #16 in IGN's "best iOS games ever" *** #1 iOS game for August on Metacritic Race around the globe in 80 Days or less, travelling by airship, submarine, mechanical camel, steam-train and more, racing other players and a clock that never stops. * "This brilliant interactive novel re-imagines Phileas Fogg's journey around the world... One of the finest examples of branching narrative yet created." - The Telegraph * "For people who love high adventures and good writing, 80 Days is a voyage that must be taken" - The Verge * "A brilliantly paced, memorable and quite frankly terrific piece of modern interactive fiction, that masterfully blends strategy, resource management and adventure" - IndieGames.com * "one of the best iOS games of the year." - iLounge 150 cities to explore. Detailed research and techno-fantasy combine in an 1872 of tensions, inventions and exploration. Climb the Burmese mountains, trek the Zulu Federation, sail up the Amazon and disappear under the Indian Ocean - but don't fall behind the time! New adventures every time you play. * "This is modern storytelling that engages and delights, and the bold, stylish artwork gives 80 Days almost a graphic novel feel. Pack your case, armchair Passepartout - adventure awaits!" - Joystiq * "Is it a game? Is it a story? Both, really. And a delight." - The Telegraph - Best Novels of 2014 * "Could be the best interactive fiction game out there" - 148 Apps * "A sublime video game to immerse yourself in" - The Examiner * "One of the most extraordinarily memorable and unique games I've played in years" - Pocket Tactics * "Everything about this game is perfect" - AppAdvice * "Innovative and extraordinary, and unpredictable fun" - Apps Zoom * "Rich with ideas, brilliantly written, and creates a world that you'll want to visit over and over again" - PocketGamer (gold award) Featuring stunning art by Jaume Illustration, a half-million word script by Meg Jayanth, original music by Laurence Chapman, and built using the same ink engine that powers our critically-acclaimed Sorcery! series, 80 DAYS is an interactive adventure created by your choices, on the fly, and is different every time you play. Playing as Phileas Fogg's loyal valet, Passepartout, you must balance your master's health, your finances, and the time, as you choose your own path from city to city all the way around the world. Bribe your way onto early departures, but don't let yourself go bankrupt or you'll be sleeping rough and begging for aid! Trade items for profit, and collect the equipment for the conditions you'll face: but too much luggage will slow you down... 80 DAYS is a breakneck race, with an in-game clock that never stops running. Trains, steamers, hot-air balloons, boats, camels, horses and more leave and arrive minute by minute. Every city and journey is narrated via an interactive story where you control every action. Will your choices speed you up - or lead you into disaster? Will you earn Fogg's trust and respect? Will you uncover the secrets and short-cuts that can shave days off your time? Murder, romance, rebellion and intrigue await! The app is networked, with a feed that shows you the position of all the other players of the game, their routes, triumphs and disasters. You can race to be the fastest - or look ahead to learn the secrets of the world. Share your own journey with friends, and load other's routes directly into your app so you can race head-to-head. 80 DAYS is a complete experience, with no in-app purchases, and was made by a core team of just four people. If you enjoy it, please leave a rating, and check out our Sorcery! series.
Release Notes:
This app has been updated by Apple to use the latest Apple signing certificate. Updated for iPhone X! Multiplayer is back! And some previous engine trouble in the last version has been fixed thanks to a handy No. 2 wrench. We're back to working on our new game, Heaven's Vault, but for those who want to go around the world on your iPhone X, now you can - and race others while you do so. Enjoy!
Price: 3.99
Version: 1.31
Release Date: 2014-11-13T08:00:00Z
Content Advisory Rating: 12+
Screenshots
Description:
FRAMED is a multi-award winning noir-puzzle game where you re-arrange panels of an animated comic book to change the outcome of the story. ~~~~~ FEATURES ~~~~~ AWARD-WINNING DESIGN Featuring a fusion of all-new game mechanics & fiendish puzzles, FRAMED has received many design awards as well as being an 'Excellence in Design' finalist in the IGF 2015. EFFORTLESSLY ELEGANT Simply grab comic panels and swap them with a touch of your finger! BEAUTIFUL ART & RICH ANIMATION Hand-crafted, award-winning art and animation brings the noir world of FRAMED to life. ORIGINAL JAZZ MUSIC SOUNDTRACK An evocative music score featuring live jazz performances fused with modern themes and beats sets the mood. A BRAND NEW EXPERIENCE AWAITS Unlike anything you've played before, FRAMED delivers a completely new type of game experience. Plug in your headphones, sit back and enjoy! ~~~~~ RECEPTION ~~~~~ "My best game in this year without any doubt." - Hideo Kojima (Metal Gear Solid) "It looks like a work of goddamn genius." - Kotaku "I was blown away by Loveshack's Framed." - Penny Arcade "Guilty of Awesome." - Rock, Paper, Shotgun "Noir-drenched motion comic puzzler gets big thumbs-up." - IGN "Framed has an incredible art style, and it plays unlike anything else we've seen." - Slide to Play "Framed meshes narrative and gameplay like nothing else." - Mac Life "With a jazzy soundtrack and a gritty vibe befitting its genre, Framed succeeds at telling a story in more ways than one." - Complex, Pop Culture "Don't miss this smart and innovative indie gem." - Pocket Gamer ** FINALIST ** 'Excellence in Design', IGF 2015 ** WINNER ** 'VisuaI Design', Indiecade Festival 2014 ** WINNER ** 'Excellence in Design', IGF China 2013 ** WINNER ** 'Best Game' - Freeplay Independent Games Festival 2013 ** WINNER ** 'Best Upcoming Game' - International Mobile Game Awards 2014 ** WINNER ** 'Best Narrative' - Brazil's Independent Games Festival 2014 ** WINNER ** 'Best Puzzle Game' - Intel Level Up Awards 2014 ** PAX 10 SELECTION ** - PAX Prime 2014 ** FINALIST ** 'Most Amazing Game' - A MAZE Festival Berlin 2014 ** FINALIST ** 'Innovation Award' - Australian Game Developer Awards 2014 ** OFFICIAL SELECTION ** BAFTA Inside Games Showcase 2014 ~~~~~~~~~~~~~~~~~~~~~~~~~~ FRAMED is designed for iPad, iPhone and iPod Touch iOS 7.0 and above. Loveshack Entertainment is an independent game development studio based in Australia. For more information www.loveshackentertainment.com Follow us @LoveShackers
Release Notes:
iPhone XS and iPhone XS Max hot fix
Price: 3.99
Version: 1.4
Release Date: 2014-11-06T08:00:00Z
Content Advisory Rating: 12+
Screenshots
Description:
A peaceful narrative experience, in which the only objective is to satisfy your curiosity. Explore an ocean dream world, in which time passes even when you are not there, visit forgotten islands and piece together memories – some even existing beyond the screen of your device. "The Sailor's Dream is a novella, a folk EP, and an art installation wrapped into one app ... It's an inspired example of what storytelling can be in the 21st century and the way modern technology can shine new light on well-worn conventions." - A.V. Club "Its lonely, bittersweet tale—told in a wonderfully unique mix of approaches—is the best storytelling I've ever played on my iPad." - Kotaku "It's an experience that's entirely about the narrative, but one uniquely built for smartphones and tablets. The peaceful visuals, the wonderful music, the sharp writing, and the simple interactive toys all go towards creating an atmosphere and telling a story." - The Verge "... you can easily wander for hours through The Sailor's Dream making music, playing it not like a game, but as an instrument ... If you are looking for a space to contemplate, a place to linger, a path to walk in patient consideration, you will find yourself at home in The Sailor's Dream for quite some time." - Kill Screen "A world-in-miniature put in the palm of your hands, which rewards you for your exploration of it with sensory delight. And perhaps most powerfully of all, pushes you to feel deeply for its inhabitants." - Gamezebo
Release Notes:
- Added support for new devices
Price: 2.99
Version: 1.6
Release Date: 2014-05-21T07:00:00Z
Content Advisory Rating: 4+
Screenshots
Description:
Game Oven's whimsical dancing game for two players, with choreography by the Dutch National Ballet. Twist and twirl elegantly, or get entangled with a friend. Holding either end of a device, you tilt the device around a virtual sphere following a path of rings. You swing your arms and twist your body, and before you know it, you are already dancing. • Watch the Dutch National Ballet dancers in Bounden's tutorial videos. • Unlock 8 dances. • Classical music composed by Bart Delissen. Bounden was featured on the New York Times, the Guardian, BBC, The Verge, Mashable, Kotaku, GiantBomb, Joystiq, Destructoid, and many others.
Release Notes:
This app has been updated by Apple to use the latest Apple signing certificate. This update makes the game fully compatible with the iPhone X!
Price: 1.99
Version: 1.22
Release Date: 2014-08-07T15:37:15Z
Content Advisory Rating: 4+
Screenshots
Description:
To see a world in a bunker of sand And a heaven in a wild cactus, Hold infinity in the pocket of your shorts, And eternity in Desert Golfing.
Release Notes:
This app has been updated by Apple to use the latest Apple signing certificate. Tweaking the aimer widget Menu bar hidden on iPhone X App preview videos Chinese localization