9 apps to help you up your selfie game (via @MacWorld)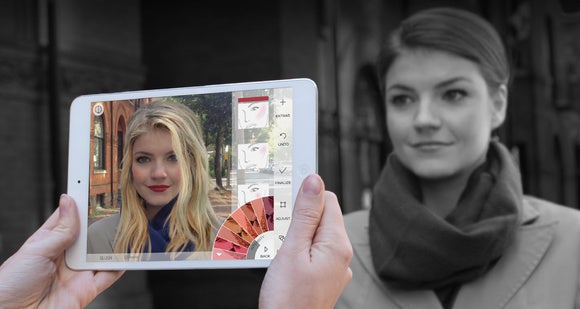 9 apps to help you up your selfie game (via @MacWorld)
Results:
Price: 3.99
Version: 2.8.9
Release Date: 2013-03-07T08:00:00Z
Content Advisory Rating: 4+
Screenshots
Description:
Facetune 2 is now available on the App Store! • "Facetune helps you look your Hollywood best, even in photos taken on mobile phones." - Roy Furchgott, The NY Times • Facetune is a fun and powerful portrait & selfie photo editor! • #1 Photo and Video App in 127 countries! --------------------------------------------------------- Professional photographers and graphic designers constantly photoshop models to perfection, and now so can you! Without the expensive price tag or complicated tools, Facetune gives you the ability to retouch and add artistic flair to selfies and portraits with ease, from the convenience of your iPhone. Praises about Facetune: • "Facetune helps you look your Hollywood best, even in photos taken on mobile phones." - Roy Furchgott, The NY Times • "One of the Most Powerful Mobile Apps I have Ever Encountered... Facetune Can Truly Be Called Magical." - Hillel Fuld, Huffington Post • "I have been seriously impressed with the patch quality FaceTune does. You get pretty much a Photoshop editing job in the palm of your hand." - Allyson Kazmucha, iMore --------------------------------------------------------- Every photo could use a touch up. That's why magazines use expensive and complicated tools like Photoshop to make people look their best. But now, there's Facetune! Facetune provides easy-to-use, powerful tools (previously reserved only for the pros) to perfect every photo or selfie, making each one look like it came straight out of a high-fashion magazine. Now you can be sure that all your portraits show only the best version of you - whether you'll be using them for your professional profile or simply sharing online with friends. --------------------------------------------------------- What can Facetune do for you? PERFECT SMILES • Widen or refine your smile • Whiten and brighten your teeth BEAUTIFUL SKIN • Smooth and rejuvenate your skin • Remove temporary imperfections like pimples and blemishes • Brighten dark circles under your eyes PENETRATING EYES • Emphasize your eyes for a penetrating gaze • Change your eye color • Remove red and white-eye effects HAIR • Color over grey hair with Tones • Fill bald patches and remove stray hairs with Patch RESHAPE FACIAL STRUCTURE • Refine jaw lines • Heighten cheek bones and brows • Reshape your nose • Enlarge or shrink a specific area of the image • Totally transform your face into alien or other fun shapes VIVID MAKEUP (with the Tones feature) • Apply any shade of blush and eye shadow • Add volume to your lashes and shape your brows • Add color to your lips • Add intensity to your natural lip color PHOTO ENHANCEMENTS • Focus the photo on you, by defocusing or blurring the background • Improve lighting or add special effects • Create customized filters • Add unique textures and customizable frames • Rotate the photo or flip to its mirror image MAKE ART • Add artistic touches to make your photo your own • Customizable filters can be applied to the entire photo or to specific areas SHOW OFF • Instantly share your edited photos with your friends & family through social media or e-mail EASY AND FUN • Compare your work with the original photo at every step of the way, with only one tap • Having trouble? Facetune offers informative graphic and video help screens for each feature RESOLUTIONS • iPhone 6S, 6S Plus: 12.6 MP • iPhone 6, 6 Plus 16.8 MP • iPhone 5, 5C, 5S: 12.6 MP • iPhone 4S: 8 MP • iPhone 4: 4.1 MP
Release Notes:
Here's what's new in this update! - Don't mind us, just smoothing out some bugs and tuning performance. Daniel & The Facetune Team P.S. If you love Facetune, we'd be thankful if you rated us!
Price: 0.0
Version: 5.73.1
Release Date: 2014-03-27T00:39:38Z
Content Advisory Rating: 4+
Screenshots
Description:
Over 600 MILLION downloads and still counting! YouCam Perfect is the best selfie photo editing & beauty camera app. Download YouCam Perfect for all the selfie and photo editing & beautifying tools you need – face beautify, teeth whitening, collages, filters, frames, effects, templates, HSL, fonts, stickers, and more! Turn animated selfies into videos with easy-to-use templates! Add animated effects to your selfies and share your selfie videos with friends. All your work can be saved to your cloud backup, which allows you access photos across multiple devices. Take the prefect pics and get creative with YouCam Perfect to turn your photos into masterpieces! 【Take Perfect Snaps and Edit Selfies in Seconds】 ◇ Beautify selfies by removing blemishes, smoothing wrinkles & skin, and shaping facial features and more ◇ Try on live effects instantly to take snaps or record videos in one tap 【Stylize with Collages, Frames, Effects & Backgrounds】 ◇ Find the perfect Collage or Frame for every photo no matter the holiday or occasion ◇ Level up your photos with amazing Filters and pro photo effects ◇ Customize your pics with Templates and Backgrounds to show personal style ◇ Instant turn your snap Insta-ready without cropping by InstaFit tool 【Selfie Videos】 ◇ Animate selfies and turn them into videos ◇ Record perfect videos ◇ Add animated effects ◇ Share selfie videos with your friends 【Show off Creativity with Magic Brush, Blender & Layers】 ◇ Become an artist with Magic Brush with a burst of shapes and colors wherever you touch ◇ Expand creativity to blend multiple photos into one piece ◇ Layer up multiple images, stickers, and text to create awesome pics 【Erase in One Tap with Cutout & Object Remover】 ◇ Cut out the subject of a photo, then give it a fun new background just like a green screen for your images ◇ Erase unwanted background objects or people with the intelligent object removal tool you can't find in other apps 【Highlight or Hide Object with Blur】 ◇ Highlight or focus on what's important in a photo for better portraits ◇ Conceal photobombers or background objects to make your photos more professional! **YouCam Perfect Premium Version** Upgrade to YouCam Perfect Premium for unlimited access to 1000+ exclusive effects, templates, frames, stickers and more! Additionally, YouCam Perfect Premium includes saving photos in HD, removing watermarks, using unlimited object removal, and an ADS-FREE editing experience. With monthly NEW premium content delivered to you, you can show off creativity and share awesome edits with friends instantly! ************************************* Unleash your creativity! Follow us to get more selfie photo editing inspiration today! https://instagram.com/youcamperfect.official –––––– Apple will ask you to accept the App Store subscription terms and request permission to provide your information to YouCam Perfect. By joining YouCam Perfect Premium, you will confirm your acceptance of Perfect Corp's Terms of Use (https://www.beautycircle.com/info/terms-of-service.action) and Privacy Policy (https://www.beautycircle.com/info/privacy.action). This subscription auto-renews at the end of each period (1 month/ 1 year), unless cancelled within 24-hours. The subscription fee is charged to your iTunes account upon purchase confirmation. You may manage your subscription and turn off auto-renewal by going into your settings after purchase. Cancellations of the current subscription are not permitted during the active period. Note: Video selfie feature requires iPhone 5, iOS 6 or above.
Release Notes:
Create even better edits with these new updates: - Polaroid style collage - New grids, collages & posters - Smarter object removal – remove those unwanted objects or people even faster & easier! Update now & have fun editing!
Price: 0.0
Version: 5.97.0
Release Date: 2014-08-13T00:04:21Z
Content Advisory Rating: 9+
Screenshots
Description:
**The world's #1 AR makeup camera app & selfie editor. Try on hundreds of virtual makeovers from top brands, apply instant makeup beauty filters and get real-time makeup learning tutorials via live AR streaming!** YouCam Makeup also offers advanced retouch tools to instantly make skin smoother, fine-tune from face, nose to lip shape, whiten teeth, enlarge eyes, and more! Start your selfie game right now! 【Real-Time Virtual Makeover】 ◇ Live makeup cam allows you to try instant makeovers including lipstick, eye shadow, eyebrows, contour, eyelashes, foundation, eye color, blush and more ◇ Seven lip textures from matte and gloss, to metallic and holographic ◇ Record a fantastic selfie makeup filter video to share on social platforms 【Face Retouch & Selfie Editor】 ◇Face Shaper – face slimming & reshape cheekbone, chin, jaw & forehead ◇Contour – real-time shape get a supermodel's face ◇Highlight – instant makeover for stunning cheekbone & nose bridge ◇Foundation & Blush – one-tap to try brand shades ◇Blemish Removal – fine-tune skin to remove pimples, acne, blackhead, wrinkles, spots & dark circles ◇Concealer – instantly remove pimples, acne, blackhead, spots & dark circles ◇Face Paint – apply cute art on your face ◇Smile Editor – Add a smile to perfect your selfies 【True-to-Life Hair Color & Trendy Hairstyles】 ◇ Play hair color games with the most realistic hair dye tool ◇ Find your favorite hair color & effects before you dye your hair ◇ Get hairstyles from long & curly to short & straight to trendy bangs & bob haircut 【Skin Analysis】 ◇ Skin analysis & Skin Diary to keep your skin healthy & radiant ◇ Analyze your skin health scoring wrinkles, spots, acne & dark circles in real-time ◇ Get personalized recommendations for skincare tips & products 【Beautiful Eyes & Brows】 ◇ Easily apply hundreds of eyeshadow styles & colors ◇ Get drama with a range of eyeliner & lash styles ◇ Try eyebrow editor, for many shapes and colors 【Beauty Live Streaming】 ◇ Live streaming makeup tutorials featuring all the hottest looks ◇ Ask a pro your makeup questions and get beauty tips & trends 【YouCam Makeup Premium Version】 Upgrade to YouCam Makeup Premium for unlimited access to: ◇ Exclusive makeup collections & lip art styles ◇ Unlimited use of beautify tools, including Eye Tuner, Concealer, Face, Lip, Nose Shaper & more ◇ Save photos in HD ◇ Teeth whitener for perfect teeth! ◇ Enhance nose shape including size, bridge, length, and tip instantly ◇ Single color or ombré hair editing ◇ Remove watermarks ◇ An AD-FREE editing experience ◇ Monthly NEW premium content delivered right to you! Perfect Corp's Terms of Use (https://www.beautycircle.com/info/terms-of-service.action) Privacy Policy (https://www.beautycircle.com/info/privacy.action). Payment will be charged to iTunes Account at confirmation of purchase. Subscriptions automatically renew unless auto-renew is turned off at least 24-hours before the end of the current period (1 month / 1 year). Account will be charged for renewal within 24-hours prior to the end of the current period, and identify the cost of the renewal. Subscriptions may be managed by the user and auto-renewal may be turned off by going to the user's Account Settings after purchase. No cancellation of the current subscription is allowed during active subscription period. Any unused portion of a free trial period will be forfeited when the user purchases a subscription to that publication. ****************************** Ideas? Share them with us by email or Facebook Bugs? Please report them and they will be fixed shortly! Email: YouCamMakeup_ios@perfectcorp.com Visit: http://www.perfectcorp.com/consumer/apps/ymk Follow us: https://www.instagram.com/youcamapps/
Release Notes:
Happy Pride month! Celebrate Pride with these colorful updates: • Special Pride makeup looks • Animated rainbow filters & stickers • Colorful backgrounds & a live frame!
Price: 0.0
Version: 4.0.19
Release Date: 2012-04-26T16:00:57Z
Content Advisory Rating: 12+
Screenshots
Description:
Share your life with your closest friends. Selfie gives you a chance to be REAL to your closest friends. Never feel timid to share a photo again, because Selfie is for feeling comfortable, all day every day. If posting more than twice a day on your current platform feels "against the rules", then Selfie is for you. Be yourSELF, and share whatever you want, with whomever you want! At Selfie, we love that you can be yourself and post 100 times a day, if you want... because everyone takes pictures and videos, but no one wants to feel judged when sharing. Selfie = Reality ◎ Selfie photos: More than 60 filters to increase your selfie game! ◎ Selfie videos: Record a selfie video using a filter, complete with sound. Just tap and hold the capture button to start recording. ◎ Text and Drawing: Decorate your selfies with multiple fonts, and draw in any color. ◎ Random filter: Let us select a filter for you! Keep pressing until you feel it's right! ◎ Timer: 5 Seconds... Strike the perfect pose before the shutter goes off! ◎ Share: Post your pics and share them easily with your friends! ◎ Comment and Likes: Tell your friends what you think of their selfies! ◎ Upload Multiple Posts: Share as many selfies as you like, at one time! Selfie was made for you.
Release Notes:
This app has been updated by Apple to display the Apple Watch app icon. We update the app regularly so we can make it better for you. Get the latest version for all the available features and improvements.Thanks for using Selfie!
Price: 2.99
Version: 2.0.5
Release Date: 2011-03-21T06:32:04Z
Content Advisory Rating: 4+
Screenshots
Description:
Take a picture of yourself every day. Be reminded at a set time, random time, or location. Line up your face to match each day using overlays. Make a movie of your life. ----- NEW IN 2.0 • Unlimited Timelines: Wanna do more than one project? Everyday your baby, a plant, your gross wound. Everyday everything. We offer unlimited timelines as an in-app purchase. • Brand new interface: Daaaaamn this app is looking fresh and totally not dumb. • Dropbox backup: Throw your phone in the toilet, it doesn't matter. All your sweet photos are safely backed up in that cloud the kids talk about. • Location based reminders: Be reminded whenever you're in a set location, like your sad apartment. • Random time: Set a time range to be reminded randomly within daily. • Location: See where you took each of your photos. • Full-resolution images: That's your big boy. ----- As seen on: CNN, TIME, Wired, The WSJ, Gizmodo, Huffington Post, Daring Fireball, and more. Find out more: http://everyday-app.com Made by William Wilkinson & Craig Merchant. Inspired by Noah Kalina's Everyday project (everyday.noahkalina.com).
Release Notes:
– Fix overlay sizing bug